'BOLD ACTION' COMING ON HOUSING, VANCOUVER MAYOR SAYS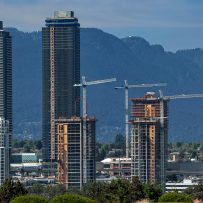 Vancouver's mayor says he is making "bold moves" to tackle the housing crisis in the city, where homelessness is rising and rents and home prices remain sky-high.
At a news conference Wednesday, Ken Sim was joined by councillors with his majority ABC party to outline a motion he plans to bring forward next week.
"While these ideas aren't necessarily new, they've needed bold action, and that's what we're bringing. We're answering this call not for short-term gain or flashy headlines, but for long-term results that will substantially change the way that we deliver housing to Vancouver."
Most of the plan is concerned with finding ways to get more housing constructed faster, according to Sim.
"This motion is focused on accelerating housing delivery in Vancouver through transformative change," he said.
Among the recommended changes is looking to expand where multiplexes, townhouses and low-rise apartment buildings can be built, by creating 26 so-called "villages," something that is included in the Vancouver Plan. Rezoning around four SkyTrain stations in East Vancouver to allow for increased density is another.
Green Party Coun. Pete Fry called Sim's motion underwhelming. He said he would have liked to have seen the announcement include a plan to build affordable housing on city-owned land.
"There's nothing really bold about this," he said.
Fry added that the plan to increase densification around SkyTrain stations such as Nanaimo and 29th Avenue require significant investments in water and sewer infrastructure – investments which are yet to be seen in the city's budget, he said.
Also included in the proposal are changes to municipal building bylaws that would align them with the province's building code in order to enable "a more rapid delivery of housing," according to a statement.
Growing and improving the city's certified professional program, which is tasked with reviewing permit applications and issuing permits, is also among the items in the motion.
Asked about how long it would take for these changes to be implemented and for their promised impact to be seen in the city, Sim said the timeline was "as quick as possible."
Vancouver is one of Canada's most expensive real estate markets and renters continue to pay the highest prices and face the lowest vacancy rates in the country. The homelessness crisis is continuing unabated, with the most recent provincial count revealing a significant increase in people living in shelters or on the streets in the city since 2020. "We have a supply and demand imbalance in the city of Vancouver. How we address that is we build more housing. If we do not build more housing, this will get worse," Sim said.
The plan also refers to supporting provincial reforms to tackle the proliferation of short-term rentals, and to enforce the rules for illegal operators.
"We are in a housing crisis, every single unit matters," Coun. Lenny Zhou said, explaining why returning these units to the long-term rental market is a "top priority."
A recent study showed that short-term rentals in B.C. were driving up prices by as much as 20 per cent in communities across the province and the housing minister has alluded to legislation that is coming to address this issue.
Details, however, have not yet been revealed.
Asked to clarify what this motion will be doing, Zhou said it will ask Sim to write a letter to the province supporting plans to increase enforcement.
The details of the motion are not yet publicly available but will be posted online in advance of next week's council meeting.
Story by: CTV News