Boardwalk unloads last B.C. holdings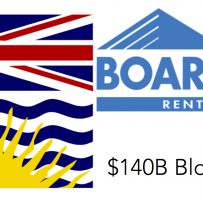 Canada's biggest residential landlord has unloaded all its British Columbia rental property in a $140 million blockbuster deal that closed May 29.
"This is the largest multi-family deal of this year in B.C., maybe of this century so far," said Lance Coulson of CBRE Ltd. National Apartment Group, Vancouver, who helped broker the four-property sale for Calgary-based Boardwalk Real Estate Investment Trust (BEI.UN TSX).
The portfolio includes two concrete apartment towers in Burnaby's Metrotown, a concrete high-rise in north Surrey and a walk-up apartment building in Victoria. With a total of 633 apartments, the sale price pencils to $221,169 per rental suite, according to Boardwalk.
Boardwalk reports net proceeds of $76.4 million on the transaction.
Confidentially agreements are in place, but Business in Vancouver has confirmed that the buyer was a Canadian pension fund. Industry estimates are that the capitalization rate for entire portfolio was in the range of 4.5%.
The deal takes Boardwalk out of the most expensive and competitive multi-family rental market in Canada. Boardwalk now owns approximately 34,600 rental apartments from Alberta to Quebec, with the majority of units – more than 17,000 – in Edmonton and Calgary.
"[Boardwalk] is continuing the process of marketing select non-core properties with the intent of high-grading its portfolio," Boardwalk said in a statement.
Sale proceeds are being used for "development, capital improvements" and purchasing its own shares. Boardwalk, which has a market capitalization of $3 billion, was trading at $64.52 this week, off its 52-week high of $68.78.
Boardwalk has not bought any more apartment buildings this year.
Instead, the giant landlord is developing in Calgary, where the company has just completed an $18.7 million, 109-unit apartment building.
Unlike B.C., Alberta has no rent controls and there are other considerations that may have convinced Boardwalk to pull back from B.C. and concentrate on its home turf.
In a release, Boardwalk notes that B.C. saw a net in-migration of 41,000 in 2013, while Alberta saw a record net influx of 100,000 in the same period.
Also, the Alberta unemployment rate is forecast at 4.4% in 2015, Boardwalk says, while it will be around 6.4% in B.C.
Coulson said he is not surprised with Boardwalk's decision to leave B.C. and concentrate on other provinces. "It is hard to make the math work here [for a large landlord]," he said, "capitalization rates are lower and prices are higher compared to Alberta, as an example."
By Frank O'Brien, Western Investor