Boardwalk REIT reports second-quarter growth and a new landmark development with RioCan REIT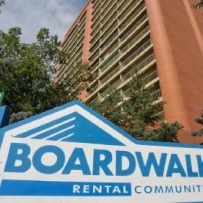 Boardwalk Real Estate Investment Trust ("Boardwalk", the "REIT" or the "Trust") announced its financial results for the second quarter and first six months of 2019.
"We are pleased to report and deliver on a solid second quarter and first half of 2019 with growth in Funds From Operation ("FFO") per unit of 13.3% and 14.8% respectively. This performance is a result of our team's commitment to the best product quality, service and experience, and has allowed the Trust to maintain high occupancy while decreasing incentives and for the first half of the year has resulted in a 4.6% increase in total revenue.
Boardwalk's Resident-Friendly approach to sustainable incentive reductions and rental rate adjustments has resulted in a continued positive trend and, for six consecutive quarters, has delivered sequential and compounding improvement in revenue. We believe this approach will best allow the Trust to deliver multi-year organic revenue growth from the recovery of our Alberta portfolio." said Sam Kolias; Chairman and Chief Executive Officer of Boardwalk REIT.
Rob Geremia; President of Boardwalk REIT added: "The rental market in Alberta through the seasonally more active summer turnover season continues to trend toward a level of balance with vacancy in our core Alberta markets continuing to further improve. A positive indicator, and an example we have seen through this summer turnover season, is an increase in the number of back-to-back suite turnovers, where suites that are being vacated on the last day of the month have been re-leased for the first day of the following month. This increased demand, coupled with moderating supply in the rental market, has positioned the Trust to execute on our organic revenue growth strategy where we remain in the early stages of recovery."
Mr. Kolias concluded: "By focusing on maintaining high occupancy, reducing incentives, managing controllable operating expenses and enhancing the value of our portfolio, the Trust has been able to optimize and drive higher Net Operating Income and Funds from Operations. As incentives are decreasing on lease renewals, and limited incentives are required to lease and fill vacant units, our Resident-Friendly approach of targeting half-month to one-month reductions in incentives has positioned the Trust well in retaining its Residents while our investment in team culture of caring, peak performers has benefited the Trust with improved operating expenses."
LAYERING ON LONG-TERM STRATEGY
Boardwalk is please to announce two transactions. The Trust has agreed to the sale of Chancellor Gate, a 138 unit non-core low-rise asset in Saskatoon for an unconditional sale price of $20.7 million, equating to $150,000
per door and a premium to the IFRS value the Trust had recorded for the asset. Closing is expected in mid September of 2019. The sale of non-core assets at a premium to the Trust's IFRS values and recycling towards
higher-quality assets with superior returns provide excellent sources of equity capital for the Trust to high-grade and geographically diversify its portfolio.

Additionally, Boardwalk is excited to announce the continuation of our strategic partnership with RioCan to extend its partnership to maximize the potential of a well-located, transit oriented community in Mississauga, Ontario to develop a 25 and 16-storey mixed-use development with an estimated 470 residential units connected by a retail podium. RioCan and Boardwalk are currently finalizing development plans and, subject to zoning approval and confirmation of total buildable area, the total purchase price for the Trust's 50% interest is estimated to be $14.9 million, or $80 per square foot buildable. Zoning is anticipated in early 2020 and aligns with the completion of BRIO in Calgary, RioCan and Boardwalk's first joint-venture development.

This development will be Boardwalk's second in the Greater Toronto Area (GTA), and is an exciting opportunity for Boardwalk to recycle capital. With the Trust's minimum distribution/maximum re-investment policy, our
growing free cash flow may then be re-invested in the Trust's long-term growth strategy of improving our existing communities, while high-grading and geographically diversifying our portfolio into other high-growth rental
markets.
CLICK HERE To access the full report.
Boardwalk REIT's Trust units are listed on the Toronto Stock Exchange, trading under the symbol BEI.UN. Additional information about Boardwalk REIT can be found on the Trust's website at www.bwalk.com/investors