Boardwalk opens new rental building – Apartment vacancy rate in Calgary sits at 1%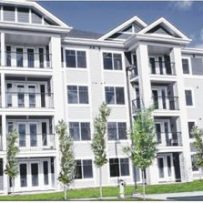 The rental apartment vacancy rate in Calgary was 1% in October 2013, down from 1.3% a year earlier, says Canada Mortgage and Housing Corp. (CMHC).
"A record level of net migration has continued to support rental demand in Calgary, thus putting downward pressure on the vacancy rate," said Richard Cho, CMHC's senior market analyst for Calgary. "A modest decline in the supply of rental units also contributed to the reduction in vacancies."
According to CMHC, the number of rental-specific apartments in the city has been in decline for a decade as many owners have converted their apartment buildings to condominiums and very few rentals units have been built for the general market, until recently.
Boardwalk Rental Communities, Calgary's largest rental landlord, opened a new rental-specific building, Spruce Ridge Gardens, late last year that includes an affordable housing element.
The project is located in the southwest neighbourhood of Spruce Cliff, says David McIlveen, director, community development for Boardwalk.
"We have owned the site for probably 15-plus years," says McIlveen. "It has always had potential for an apartment site but the economics never made sense until recently. We had to change the zoning slightly on the number of units we could build and decided we would build the market rental units and we also had the opportunity to partner with the Province of Alberta with a grant that allows the rental rate to drop down to what the province calls affordable."
Of the 109 apartments in the building, 55 are market rental and 54 are classified as affordable housing for qualified renters.
The province produces a core need income threshold, which for a single person is $39,000 or less per year, at which point they qualify for a less-than-market rate, says McIlveen.
"We check to make sure people meet that (qualification) and as long as they do, then they are eligible and we then do our normal checks," he says.
The apartments are equally split between two-bedroom and one-bedroom units, with sizes ranging from 700 sq. ft. (one-bedroom) to 868 sq. ft. up to 977 sq. ft. (two bedrooms).
"The affordable rates are $900 per month for a one-bedroom and $1,082 for a two-bedroom," says McIlveen. "All rates include six appliances, heat and water."
Features include balconies or patios with each unit, 15 accessible apartments, two elevators, heated underground parking and energized exterior parking stalls, as well as a well-located established neighbourhood.
"We are almost on the Shaganappi golf course, with lots of green space, large trees and just minutes to the Westbrook LRT and shopping centre," says McIlveen. "And because the building is in such a nice neighbourhood, we upgraded the finishing on the outside Hardie board siding and stone. We made it a very attractive building and everything is high quality, what you see and what you can't see."
Spruce Ridge Gardens is located at 3380 Spruce Dr. S.W. For more information, call 403-215-8762.