BENJAMIN TAL SHARES AN EXCLUSIVE LOOK ON THE ECONOMY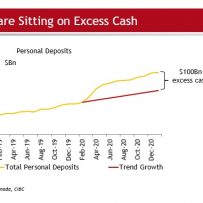 As governments continue rolling out the vaccine and the country heads towards reopening, it's important we get a good financial picture. Recently, Benjamin Tal, Deputy Chief Economist for CIBC World Markets, gave an insightful presentation to kick off the 2021 CFAA Virtual Rental Housing Conference.
Benjamin explained that Canada is starting from behind economically, compared to the US. Our economy is doing worse during the pandemic than the US, due to Canada's tighter restrictions to reduce our infection rate. To bolster the economy, the government will be spending $100B on recovery, as well as the money already spent.
Canada should do well because of the nature of the recovery. In the second half of 2021, when everything will open up, Benjamin foresees 5 to 7% GDP growth. This growth is possible because the damage from the crisis is deep, but narrow, as it affected relatively few industries, but those industries were hit hard. Most of the damage was in the service sector, which is more flexible than manufacturing, allowing a quicker and more effective recovery. In addition, households and businesses are sitting on excess cash, in part because, for every $1 decline in wages, the government injected $7 into the economy.
Personal bank deposits
Many people are afraid that the government accruing so much debt will cause economic problems. However, governments do not actually pay down their debt; the debt is refinanced when interest rates are low, and the cycle continues. Government spending is expected to drop, but to remain higher than it was before, to fund new social programs. Although he could not give a firm prediction, Benjamin expects the government to increase taxation revenue in the near future to balance the increased long-term spending. There may be an increased capital gains inclusion rate on stocks and bonds, or possibly even a GST increase.
Benjamin does not believe the newly announced interest deductibility limitation to be good policy. He stated that it will not raise significant revenue, and it will decrease the supply of rental units. "It is a step in the wrong direction." CFAA agrees with Benjamin, and is opposing the application of the limitation to rental housing.
There is also concern that the increased cash flow in the Canadian economy will result in inflation. The government has said that it will tolerate higher inflation down the road, but to lead to worrisome inflation, the velocity of spending would need to increase, which has not happened. Benjamin foresees the Bank of Canada increasing interest rates to counteract inflation, and he warns against the Bank's being too slow with that response. Interest rates should be raised gradually to avoid an economic shock, particularly because "a 1% increase in interest rates today is like a 2% increase just 5 or 6 years ago." Based on historic data, interest rates are likely to go up by 2%, but to peak lower than they did before.
The housing market has been booming in Canada recently, and Benjamin said that the major reason is that Canadians are "borrowing activity from the future." Low earners made up the majority of job losses during the pandemic, and most low earners are renters, so most house purchasers did not lose their jobs. With incredibly low interest rates, high earners rushed to buy houses because they know that interest rates would eventually go up.
The housing boom is made worse by the lack of housing supply; a problem that Benjamin believes can only be solved by increasing the purpose-built rental supply. The government must help to make the economics of building purpose-built make sense.
CFAA thanks Benjamin Tal for his enlightening talk, and thanks all attendees and sponsors for making this event so successful.
CFAA Rental Housing Awards Presentation and Tradeshow – May 4, 5 and 6
On May 4, 5, and 6, CFAA will be holding its annual Awards Presentations, along with a Tradeshow and Networking. Attendees will be able to network using Remo's unique "table set up" and visit exhibitors' booths throughout the events, speaking to exhibitors in real time (from 3:00 to 5:00 pm EDT on May 4, 5 and 6).  Those events are free for rental housing providers to attend, but you must register in advance.  Register here.
Upcoming Presentation: Operations Roundtable
On Thursday, May 13, at 3:00pm EDT, CFAA will present the Operations Roundtable. The panelists will be:
Ruth Buckle, Senior Vice President, Property Management, Killam Apartment REIT
Trish MacPherson, Partner, Alignvest Student Housing REIT
Brandi McIlvenny, Director, Residential Rentals, Sifton Properties
Dean Holmes, Senior Vice President, Residential Operations, Quadreal
The panel will discuss topics such as student housing demand, other rental market shifts, operational changes to be expected after COVID-19, gender equity and mitigating increases in insurance rates. Click here to register.
Story by: CFAA President John Dickie