Benefits to Renting Furnished Apartments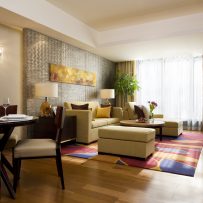 If you have ever scoured through online apartment rental ads in the quest to find the perfect place to call home, you've likely seen furnished apartments advertised prominently alongside the "traditional" apartment-for-rent ads. Furnished apartments have become so popular that they often warrant their very own sections on websites like Kijiji, Craigslist and RentSeeker.ca So what's all the fuss? Put simply, furnished apartments offer numerous advantages for people of all ages and from all walks of life. If you're looking for a new home and want to find out if a furnished rental apartment would work for you, read on to learn about their many benefits.
Easy, Breezy Moving:

 Let's face it – no one likes moving. Lugging couches up flights of stairs is a chore that we'd all like to avoid. With furnished apartments, there is no huffing and puffing and struggling to fit your coffee table into an elevator – the furniture is already set up and waiting for you to come in and relax. There's no need to worry about renting a truck or hiring a moving company, either. All you need to think about is bringing in your personal possessions, like clothes and books, while everything else is already there for you. Many furnished apartments even come complete with a fully stocked kitchen, including plates, glasses and cutlery. Instead of it taking months for you to get settled in, you'll be living large in only a day or two. It doesn't get any better than that.

First Apartment? No Problem!:

 Ah, the first apartment move. It can be stressful trying to find the perfect place to live, let alone figuring out how you're going to afford all that brand new furniture. This conundrum is particularly acute for students, who generally have their attention focused elsewhere (like studying for that mid-term). Wouldn't it be nice to just move in and have your bed, television and microwave already there? Furnished apartments will afford you that luxury and help to reduce the impact that buying furniture would have on your financial bottom line.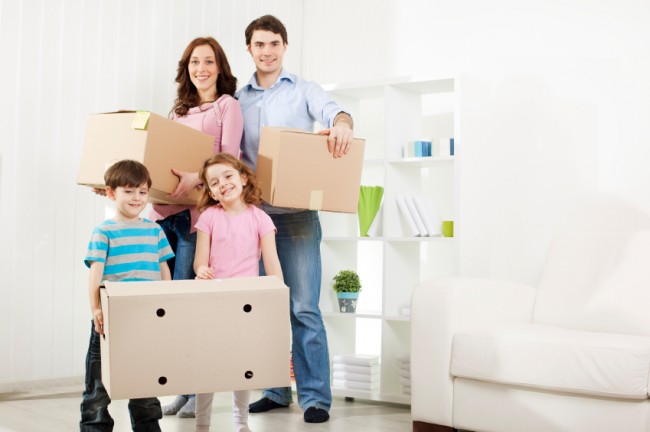 Bright Lights, Big City:

 If you're one of the many people who has to move to a new city for work, you already know what a headache it is to arrange shipping your furnishings for a long-haul move. With a furnished apartment, you can ensure that getting settled in your new city is simply a matter of figuring out the public transit system. Further, if you plan on bringing out your own furniture at a later date but need to start your new job right away, furnished apartments help you through the transition phase of the move. Whether you live there for only a few months or for a year, a furnished apartment gives you a comfortable place to hang your hat at night while you sort out the logistics of the big (eventual) move.
Decor for Dummies:

 If decorating is not your forte, furnished apartments will be right up your alley. Having an apartment with art on the walls and little knick-knacks scattered throughout is what really makes it feel like a home. Bare walls give the feeling of temporariness, while tasteful decor gives your apartment that lived-in vibe. The vast majority of furnished apartments come finished with decorations already in place. While they may not necessarily be completely your taste, it is comforting to move into an apartment that has a ready-made homey feeling.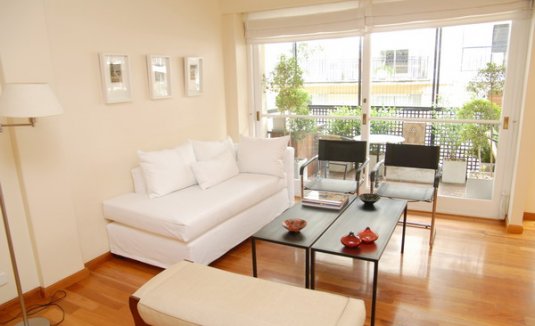 If you've made the decision to go for a furnished apartment, you'll probably want to make it feel like your own once you move in. Apartment Therapy shows you the way in their piece "Making a Furnished Sublet Feel Like Home":
1) When you put all your things in storage, leave out some photos, books, your favorite lamp shade, kitchen items you use often – just any of your favorite home decor items. Place these things in your sublet and surround yourself with familiar things.
2) Rearrange the space to your liking. If you need more space in the bedroom, turn the bed the other way or, if you don't love the decor, place it in a closet during your stay. Just take photos of the place before you move or change anything so you can put it all back when your lease is up.
3) Buy some plants for your space. Nothing fancy – just buy a few plants and place them in your temporary home. This will give you the feeling that you are "making a home" for a little while.
4) Use your own bedding. Even though a furnished sublet should come with everything, including bedding and towels, consider bringing or buying your own.
5) Entertain friends. Once you are settled in, invite some friends over for some wine or a small dinner party. Entertaining is a great way to feel comfortable and having close friends around you will make you feel good.
6) Unpack everything you brought with you. Forget leaving your things in your suitcase or boxes. Unpack all of your things, find a new home for them and store your suitcase and boxes for when you leave. You'll feel better immediately.
You can find both furnished apartments and unfurnished bachelor 1, 2 and 3 bedroom apartments on RentSeeker.ca, so start your search online today!