BC low-cost housing initiative to supply over a thousand new units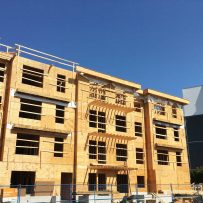 As much as 1,500 affordable housing units will be built across British Columbia over the next five years, the provincial government announced.
BC Housing, along with Canada Mortgage and Housing Corporation, will be investing $75 million in the construction of 1,000 new units planned under the province's Supportive Housing Fund, and 500 new units planned under the Women's Transition Housing Fund.
The memorandum of intent signed by BC Housing and CMHC will "help us ensure that more British Columbians in need find safe and secure homes," according to Spencer Chandra Herbert, MLA for Vancouver-West End.
"This new funding will complement the significant investments our government has been rolling out under the 10-year Homes for BC plan, including building more homes to help people experiencing homelessness and women and children leaving violence. We will continue to work with all levels of government and community partners to build homes that people need."
The initiative represents a much-needed boost to the province's low-cost residential supply.
"Every Canadian deserves a safe and affordable place to call home. Today's announcement is the next step in our historic investments in British Columbia housing. 1,500 more families will be able to have a brighter future thanks to these investments," according to the Honourable Jean-Yves Duclos, Minister of Families, Children and Social Development and Minister responsible for CMHC.