Bay Street calls on Morneau for plan to balance the budget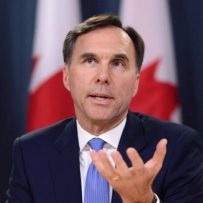 Bay Street wants Morneau's budget to avoid tax hikes, new spending: BNN survey
Federal Finance Minister Bill Morneau needs to hold the line – or even cut – federal taxes and get spending under control in his upcoming budget, according a BNN survey of Canadian economists, portfolio managers and corporate executives.
"If they hike taxes they may as well shut down the country, we are done," said Greg Taylor, portfolio manager at Redwood Asset Management, in the online poll conducted earlier this week.
Almost 45 per cent of those surveyed say Morneau's top priority in the Feb. 27 budget should be charting a path back to a balanced budget. About 28 per cent said Ottawa should cut personal tax rates and just over 14 per cent says Morneau's top priority should be cutting corporate taxes.
Morneau is tabling his third budget during a period of increasing economic uncertainty that include persistent threats to the North American Free Trade Agreement. Nearly 90 per cent of those surveyed support the finance minister's decision to table the budget before NAFTA negotiations are complete.  
"It's unclear when NAFTA negotiations will get resolved," said Brian Madden, senior vice president and portfolio manager at Goodreid Investment Counsel. "It could take years. So, 'the show must go on.'"
And as the U.S. moves to cut taxes and business regulations, executives warned Morneau needs to focus on budget measures that make Canada more competitive – or at least don't make things worse.
"Any fiscal measures to boost confidence and facilitate the decision-making individuals and mostly companies will be welcomed," said Sebastien Lavoie, chief economist at Laurentian Bank. "In addition to NAFTA uncertainty, the U.S. tax reform and deregulation plans weigh on short- and long-term growth prospects. A positive growth-friendly signal should be send ideally from the federal government."
Other executives were more blunt: "[Morneau] should stop going after wealth creators and make Canada a more attractive place for companies to locate and invest," said Norman Levine, managing director at Portfolio Management Corp.
Respondents were split on whether or not Morneau should revisit tax reform after last summer's backlash to changes in small business taxes. 
"Completely back off personal tax reform for private corporations," said Paul Gardner, partner and portfolio manager at Avenue Investment Management.
Others, such as BMO Financial Group Chief Economist Doug Porter and Ian Russell, president and CEO of the Investment Industry Association of Canada, said Morneau should tackle tax reform head-on.
"This effort to lower tax rates and simplify the tax system will bolster confidence and encourage investment," Russell said.
Just over 60 per cent of those surveyed say they are "somewhat" or "very concerned" about Canada's public debt now that interest rates are on the rise. And several said Morneau should hold the line on spending – especially any additional stimulus spending.
Brian Johnston, chief operating officer at Mattamy Homes, said Morneau should avoid spending on "feel good" initiatives with few accountability measures.
And one economist said the finance minister should avoid making any sweeping changes.
"Avoid making wholesale changes to the budget; keep a steady course on the fiscal front," warned Oren Klachkin, senior economist at Oxford Economics. "[Avoid] additional fiscal stimulus which could lead to an overheating of the economy."