Barrie motel to be turned into affordable housing units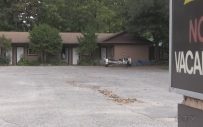 Barr's Motel on Essa Road in Barrie is set to be transformed into affordable housing units.
The County of Simcoe announced on Tuesday it will convert the hotel and the house beside it into 17 affordable housing units.
It's all courtesy of a nearly $10 million grant from the province to build and operate affordable housing in Barrie and Orillia.
"Our affordable housing committee really wanted to come up with an idea that was outside of the box thinking, that was creative and that actually could change the model for affordable housing," says Gerry Marshall, Simcoe County warden.
The county has been chasing the Barr's Motel for about 18 months.
"Motel conversions offer a very cost efficient way of creating affordable housing, under the right circumstances and we think we've arrived at the right circumstances," says Arfona Zwiers, director of social housing.
A property on Queen Street in Orillia will be used for affordable housing. Twenty units will be built in an apartment-style building.
The province's funding will pay for most of the construction on the two sites, but around $1 million still needs to be raised through community fundraising.
http://barrie.ctvnews.ca/video?clipId=1218232