Bank of Canada's Poloz says rate hike path 'highly uncertain'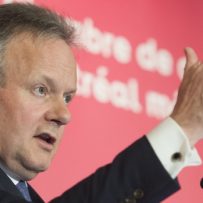 Bank of Canada Governor Stephen Poloz said the path toward higher interest rates is "highly uncertain" due to lingering questions around housing and investment, even as he stuck to his message that borrowing costs eventually need to head higher.
Poloz defended the central bank's five rate increases since mid-2017, and cited two reasons for why he's been on hold since October last year: the impact of higher rates on indebted consumers; and risks to the investment outlook.
"We judge that we will need to move our policy rates up into a neutral range over time, to a point where it is not stimulating or constraining economic growth," Poloz said in a speech to the Montreal Chamber of Commerce. "However, the path back to that neutral range is highly uncertain. We will watch the data as they come in, and use judgement."
The comments are consistent with Poloz's efforts in recent weeks to inject more ambiguity about the timing of future increases — while sticking to an overall rate hike story — as the economy copes with a growth slowdown that the Bank of Canada has been insisting will be temporary.
Investors see only a small chance of another rate hike coming from the Bank of Canada. That's at odd with expectations from economists at major banks, where there's almost unanimity that at least one more increase is likely at some point this year. The next rate decision is March 6.