Fiscal Stimulus Can Ease Financial Risks: Bank of Canada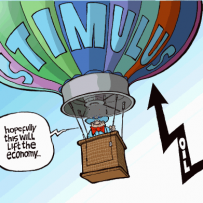 Story by: Theophilos Argitis  |  Bloomberg
Financial stability risks may be one more reason for the federal government to consider ramping up fiscal stimulus.
In a speech today in Montreal, Bank of Canada Deputy Governor Tim Lane laid out the main challenge central banks face today: how to worry about the financial stability risks associated with record low borrowing costs when the primary objective is to ensure the economy is growing at an appropriate pace. The answer is that monetary policy needs help, Lane says.
Regulators need to take the primary responsibility for financial risks associated with the impact of low interest rates, such as record high household debts. If financial risks become too great even for regulators to handle, the government may want to consider fiscal stimulus to reduce the burden on monetary policy.
"One thing is clear," Lane said. "Monetary policy cannot take primary responsibility for maintaining financial stability."
It's the second time in as many weeks the Bank of Canada has indicated they could use some help from fiscal policy, as they grapple with interest rates at near zero. Governor Stephen Poloz last month said he held off from cutting his policy rate in part to see the extent of the stimulus package in a budget expected next month.
Lane said recent Bank of Canada research suggests that using monetary policy to reduce vulnerabilities in the financial system are costly and better handled by regulations to rein in housing debt. There are also complicated interactions between monetary policy and regulatory steps that need to be better understood. For example, if tighter housing regulations slow the economy even more, requiring weaker monetary policy.
In such cases, fiscal policy may help, Lane said.
"Thus, it is possible that, in a situation of sustained weak aggregate demand, relying primarily on monetary policy to provide stimulus may lead to financial vulnerabilities that macro-prudential policy cannot, or should not, offset," Lane said.
"In such circumstances, fiscal policy may be called upon to provide stimulus, particularly since it is likely to be more effective at low interest rates."