Bank of Canada rate cut further fans real estate flames amid industry warning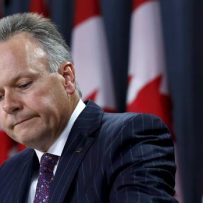 The Bank of Canada just added more fuel to the country's already blistering housing market.
The central bank reduced its overnight lending rate to 0.5 per cent from 0.75 per cent, saying the economy contracted modestly in the first half of the year amid a slump in the price of oil. Toronto-Dominion Bank immediately cut its prime rate by 10 basis points to 2.75 per cent.
"While vulnerabilities associated with household imbalances remain elevated and could edge higher, Canada's economy is undergoing a significant and complex adjustment," Bank of Canada Governor Stephen Poloz said in a statement.
The move overrides concerns from real estate executives and some economists that lower rates will lead to increased borrowing, skyrocketing prices and put housing markets in Toronto and Vancouver at risk of a correction.
"I worry that stoking this engine further could move us from a perfectly manageable major market expansion into a more difficult correction," Phil Soper, chief executive officer of Royal LePage, Canada's largest real estate firm, said in a report Tuesday.
Their concern is that Canada's banks, which hold 74 per cent of the country's $1.3 trillion in mortgage debt, will follow the Bank of Canada in slicing mortgage rates, enticing further borrowing in a country where consumers are already carrying near record debt loads. Lenders usually follow the central bank's moves.
'Another Log'
"It's going to put more fuel on the fire for potentially people who may not really have the ability to buy real estate," Ross McCredie, CEO of Sotheby's International Realty Canada said in an interview July 8. "When they're buying, the baseline is that interest rates are going to stay this low for a very long period of time. It's a scary place to be a buyer."
Douglas Porter, chief economist at Bank of Montreal, said in an interview July 7 that a rate cut would be the "equivalent of throwing another log on an already raging fire."
CREA Numbers
The Canadian Real Estate Association says low interest rates have given buyers confidence and pushed the number of monthly sales in May and June to the highest levels in years.
The association says the number of Canadian home resales in June hit a record for the month and about two-thirds of all local markets showed increases from a year earlier.
It says there were 56,839 transactions by CREA members in June, up 11 per cent from the same month last year.
The association's national home price index was up 5.43 per cent in June from the same month last year and the national average price for homes sold in June was $543,560 — up 9.6 per cent from a year earlier.
CREA economist Gregory Klump says national sales activity was boosted by a record-high volume of sales in the Toronto area.
He says the Toronto-area records would have been even higher if there weren't a shortage of listings for single family homes.
Toronto and Vancouver home prices have defied expectations. The average cost of purchasing a condo, townhouse or low-rise property in Toronto, Canada's largest city, has jumped 38 per cent in the five years to June, according to the Canadian Real Estate Association. Toronto sales reached a record in each of the last three months. In Vancouver, single-family home prices rallied 35 per cent to $1.1 million in June from June 2010.
Prime Rates
After the Bank of Canada reduced its lending rate by 25 basis points to 0.75 percent in January, the banks followed a week later with only a 15 basis point cut to their prime rates, which control everything from variable rate mortgages to lines of credit.
Toronto-Dominion Bank was the first out of the blocks Wednesday after being one of the last major banks to agree to a rate reduction when the central bank lowered in March.
The prime rate at the banks was 2.85 per cent Tuesday, the lowest since 2010, while the current rate on a 5-year conventional mortgage is 4.64 per cent. Borrowers often get a lower cost than what's posted because of promotional products and the competition among lenders.
In January, the central bank cut surprised economists. For Wednesday's meeting, 15 of 29 economists predicted a quarter- point reduction to 0.5 per cent.
Bloomberg News, with files from Canadian Press, Financial Post staff