BANK OF CANADA NOW EXPECTED TO CAP RATE-HIKING CAMPAIGN AT 5%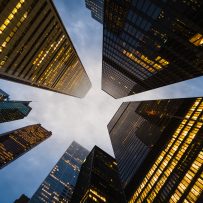 The Bank of Canada will raise borrowing costs by another 25 basis points in coming months before capping its tightening cycle, economists said.
Canada's central bank will increase its key overnight rate to 5 per cent in the third quarter, according to a monthly Bloomberg survey of 25 economists. That would be the highest level since 2001.
The outlook still more or less shows the economy headed for a so-called soft landing as policymakers push rates deeply into restrictive territory. Analysts raised their expectations for growth in 2023 to 1.3 per cent from 1 per cent previously, and trimmed forecasts for next year to 0.7 per cent. Inflation is expected to run at a 3 per cent annual pace to end the year, from a 2.7 per cent clip expected in the previous survey.
The results underline the challenge faced by economists as they try to pinpoint the end of Governor Tiff Macklem's hiking campaign. In the last year, expectations for the country's terminal rate have been consistently revised upward as surprising economic growth and robust household consumption defy the widely held belief Canada is more sensitive to higher interest rates than its peers.
Central bankers around the world are facing similar challenges as inflationary pressures prove stickier, even in the face of aggressive tightening. In the US, economists expect the Federal Reserve will cap out at 5.5 per cent and investors are betting the Bank of England will go as high as 6.25 per cent.
Markets see the final bout of tightening happening in Canada as early as the central bank's next meeting on July 12, with overnight swaps traders putting the the odds of a move then at about 75 per cent.
Economists also pushed back their estimates for when Canada's growth will start slowing, though a technical recession has reemerged as the base case for Canada's economy this year. Gross domestic product is expected to contract in the second half of 2023, shrinking by 0.1 per cent and 0.2 per cent annualized in the third and fourth quarters, respectively.
Macklem and his officials raised borrowing costs to 4.75 per cent earlier this month. The surprise move ended a conditional pledge the bank made in January to pause and assess how the more than 400 basis points of tightening in less than a year would impact Canada's economy.
Story by: BNN Bloomberg