B.C. RENTAL BUILDS UP DESPITE FREEZE ON RENTAL RATES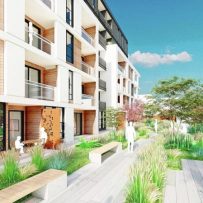 British Columbia's restrictive rental environment, which includes a freeze on rental increases this year, and rising vacancy rates for new rentals has apparently had little effect on multi-family developers.
As of February, 768 new purpose-built rental apartments had started construction in Metro Vancouver, up 34% from a year earlier, and adding to the 5,207 units that broke ground in 2020, according to Canada Mortgage and Housing Corp. (CMHC).
Yet, while the Metro Vancouver vacancy has increased to 2.6 per cent this year, up from the 1.1 per cent range since 2018, the vacancy rate for the more expensive apartments in new rental buildings spiked to 6.2 per cent.
In the City of Vancouver, the vacancy rate for new rental buildings – completed in the past five years – soared from 1.4 per cent to 8.7 per cent, year-over-year, according to CMHC.
B.C. has also capped any rental increases to the rate of inflation once the current 18-month rental freeze ends.
Still, a boom in new rental apartments is building from Metro Vancouver to Vancouver Island.
Starlight Developments, a division of Starlight Investments, has submitted a rezoning proposal to the City of Burnaby for the biggest rental build in B.C.
The proposal includes the retention of four concrete rental towers with 528 units and the addition of three high-rise, concrete towers and 1,200 new rental homes – totaling 1,728 suites when the development is complete.
The Starlight property is within the City of Burnaby's Lougheed Town Centre Plan, which calls for the transformation of the area into a dense, mixed-use community supported by rapid transit.
Starlight is the largest multi-residential owner-operator in Canada. It's British Columbia portfolio has grown significantly with recent $4.8 billion purchase of the Northview Apartment Real Estate Investment Trust portfolio, and Aqua at Plaza 88, a rental housing tower, in New Westminster. Starlight now manages approximately 4,800 rental suites in the province.
Vancouver Island
Meanwhile, telecommunication giant Telus and partner Omicron, of Vancouver, are proposing a $70-million project with 197 rental units in Nanaimo's Old City Quarter as public and private sector investment in the city's construction sector is shaping up to have another strong year.
"We are seeing a trend this year toward public investment," Jeremy Holm, Nanaimo's director of development approvals, said Tuesday.
Despite the pandemic, Holm anticipates 2021 building permit value will be similar to 2020 which reached $243 million. Of that, $203.8 million went to residential construction, 65% of which was rentals.
Interest in investing in Nanaimo is coming from off-Island developers, including Alberta, Manitoba and Ontario, Holm said.
The Telus Living Nanaimo proposal would be one of the city's largest private-sector rental projects, Holm said. Up to 500 residents would live on site once complete.
This proposal would see 1.75 acres subdivided off Telus' existing 2.75-acre property, where it has its Nanaimo office.
Units would rent at market rates said Pablo Yuste, architect and principal at Omicron, which is providing development management, design, engineering, and construction management.
"This project is strategically focused at the middle rental market as this is the area that is currently underserved," he said in an email.
The two six-storey buildings, covering 164,000 square feet, would be connected through landscaping. Construction cost is pegged at $50 million, Yuste said.
Nanaimo would receive $2 million in development fees and the project is expected to create between 650 to 700 jobs.
Omicron is planning for a development permit approval this spring. Construction would take approximately 24 to 30 months, he said.
Other housing projects include a two-building, 79-unit rental development on Haliburton Street on the city's south end by Parkshore Projects Ltd. Approved in January 2021, it follows a similar project next door by the same developer.
Story by: Western Investor