B.C. POTENTIAL RENT CAP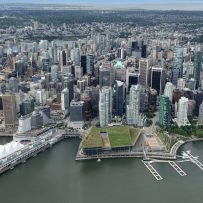 B.C. landlords big and small dread 'knockout punch' of potential rent increase cap
With the B.C. government telling CityNews it will consider capping the allowable rent increase for 2023 at a rate below inflation, landlords big and small are voicing their concerns.
Jon Stovell is the president of Reliance Properties and the chair of the Urban Development Institute. He calls the prospect of the formula changing to an allowable increase lower than the Consumer Price Index a "knockout punch."
He points out the development industry is facing headwinds as it is, between rising interest rates and surging construction costs — even without a more restrictive formula for allowable rent increases.
"We know there's a dire shortage of rental housing in the Lower Mainland and south Vancouver Island," Stovell told CityNews. "The vacancy rate is probably well under two per cent and rents have been going up. The provincial government and Minister [David] Eby, the housing minister, has been very vocal on the need and the urgency to have additional rental housing built, and full recognition that the private sector needs to be the main deliverer of new rental housing in the region.
"And also [the government is] very keenly interested in reinvestment in existing rental housing, maintaining standards, adding air conditioning [after] heat dome issues, and so on, and yet at the same time, the rental sector, whether it's existing rental or new construction, has been under tremendous pressure."
Stovell went on to reference the pandemic freeze on rent increases, saying landlords were supportive of the freeze — with the understanding they would be able to recover some of those costs once the government ended that pause on rent hikes.
In terms of Stovell's own company, he says there are 2,000 units in what he calls "the development pipeline" in Vancouver and Victoria, but says a cap on the rental increase, in combination with rising interest rates and construction costs, puts about half of those units in peril.
"On the new construction side, permit approval times, construction costs, interest rates, are putting a lot of rental projects in peril of moving ahead, but this lack of confidence in the regulatory regime caused by the province considering changing the rules and having rental subsidized by the private sector is going to be the knockout punch for dozens and dozens of rental projects, thousands of units," he said.
The prospective cap on the allowable rent increase is also causing stress for small-scale landlords.
Demetri Zambus manages a rental property in Vancouver for his 80-year-old mother and says her costs have been rising — even as the ability to increase rents was put on hold with the pandemic rent freeze.
"Property taxes are going up crazy, the city water fees, the city sewer fees, BC Hydro, [Fortis BC], and those are just government or quasi-government entities, let alone property insurance, garbage collection — all of those fees that are astronomically up just the past five years," Zambus told CityNews.
"When my widowed mother is making less now than when her husband passed away more than 10 years ago, in today's dollars — forget about inflation-adjusted — there's something really wrong."
But even as the province contemplates adjusting the formula, Attorney General Eby, the minister responsible for housing, stressed to CityNews during an interview last week that the province is being mindful of the potential impact on landlords.
"We're certainly concerned about the issue of landlords divesting from their properties, essentially by limiting rent increases, saying 'well, there's no point in doing improvements to my building,' letting things run down, letting conditions get worse, so we created an incentive program," Eby told CityNews.
Eby pointed to the province's incentive program that allows landlords to increase rents beyond the CPI if they can demonstrate that a building has been upgraded.
"They are allowed to do increases beyond the maximum for a limited set of circumstances, and there are limits on that of course," Eby said. "But we're trying to encourage them to do the right thing. Invest in their buildings, provide safe housing, and not just reward landlords with annual rent increase if they let their properties run down."
As for the rising interest rate environment and if the province is concerned about whether that could reduce new rental construction, Eby is encouraging municipalities to speed up project approvals, stressing "the window is closing" as rates rise.
BC considers capping rents as inflation threatens to "shock" renters
BC may intervene to cap rent increases, as record-high inflation threatens to "shock" renters with the largest hikes seen in at least two decades.
Housing Minister David Eby said he's worried about the inflationary numbers, because in July his ministry will calculate the average from the previous 12 months and use that amount to set the maximum allowable rent increase for landlords in 2023.
"The current range is suggesting it could potentially land in a five to six per cent range," Eby said in an interview.
"The biggest increase we've had in memory in the province was an increase of four to five per cent, and that was in a period when two per cent was added (on top of) to the inflation rate."
"So I think it would be quite a shock for renters to see that level of increase. And so we're doing the work right now to determine how to appropriately reflect both increased costs for landlords as well as the risk to tenants of a sudden dramatic rent increase," he continued.
Until 2018, BC allowed landlords to raise rents every year at a maximum of the rate of inflation plus an additional two per cent.
The BC NDP government changed that formula, scrapping the extra two per cent and tying rent increases directly to inflation.
"It's simply not sustainable for renters, many of whom are on fixed incomes, to see their rent increase by more than inflation each and every year," Premier John Horgan said at the time, in 2018.
"We have to eliminate the risk of such huge increases for renters. Our new approach strikes a balance between giving relief to renters while encouraging people to maintain their rental properties."
But the BC government never envisioned inflation skyrocketing to 6.8 per cent in Canada in April, or 6.7 per cent in BC.
And on Wednesday morning, Statistics Canada announced inflation hit a four-decade high.
The Horgan government is now stuck between the rental formula it chose, and intense public worry over how inflation has raised the price of most household goods and housing. Inflation is currently the top concern on the minds of BC voters, followed by health care and then housing affordability, according to a poll by Angus Reid last week.
A five to six per cent rent increase for next year would be the largest since at least 2005.
It would add up to $108 on a monthly rent of $1,800, or up to $174 on a monthly rent of $2,900.
What the BC NDP could do to help renters:
"There are a couple of possible options," said Eby.
"One is just let the policy stand as it is. And the other is to do what we've done at earlier stages in the pandemic, which was the first year of the pandemic to do a rent freeze entirely. Or, to have something less than the maximum allowable rent increase for the period."
Eby said he'll figure out what to do soon, and will announce the decision with enough time for renters and landlords to prepare for next year.
Landlords want to see the province allow the inflationary hike, because owners are facing their own cost-of-living increases on utilities, insurance, taxes and maintenance, said David Hutniak, CEO of LandlordBC, an advocacy group for property owners.
"Our sector is predominantly small business owners and they are increasingly exiting the sector because of negative rates of return," said Hutniak.
"This is a disturbing trend and does not bode well for renters or our communities. We need longer term solutions to ensure that we have a healthy rental housing ecosystem, and that includes creating an abundant of supply of new secure purpose-built rental housing."
Eby admitted it's a "delicate balance" between encouraging people to rent their places in BC cities where the vacancy rate is still very tight, and hitting tenants with dramatic rent increases.
"That's the policy challenge here," he said. "And certainly we're aware of both issues."
BC froze rents in 2021 during the COVID-19 pandemic. In 2022, it allowed the rate to increase to 1.5, because the inflationary rate it calculated the previous year was still low.
Stories by: City News & Daily Hive