B.C. Liberals To 'Get The Blame' As Vancouver Home Sales Plunge 85%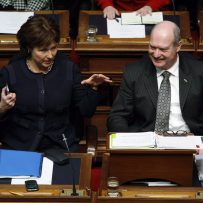 Story by: The Huffington Post Canada  |  By Daniel Tencer
B.C.'s Liberal government will likely take a political hit for their decision to impose a foreign buyer tax on the Greater Vancouver housing market, even though the city's housing correction began before the tax took effect, a report from Capital Economics says.
"We would be amazed if B.C.'s Finance Minister, Mike de Jong, doesn't get the blame when Vancouver house prices are falling next year," the report said.
"By the time the B.C. provincial election rolls around next May [house price growth] will be close to, or even below, zero," economist Paul Ashworth wrote in the report.
The prediction of flat or falling prices comes as preliminary data for August shows signs of a steep decline in Vancouver's housing activity. According to Multiple Listings Service data obtained by Global News, homes sales in Greater Vancouver collapsed by 85 per cent in the first two weeks of August, compared to the same period a year ago.
In ritzy West Vancouver — where the benchmark price of a home was nearly $2.8 million in July, up 40 per cent from a year ago — home sales collapsed by 94 per cent, realtor Brent Eilers told Global. There were three sales in the first half of August this year, compared to 52 sales in the same period last year.
It's impossible to tell from such a small data set whether this is a short-lived correction or the start of a longer, broader decline.
Much of the weakness appears to be concentrated at the upper end of the market. According to inventory data from real estate website Zolo, the number of days Vancouver homes spend on the market has fallen for every housing category — except the top of the market, where houses are taking much longer to sell.
Zolo data also shows that the average selling price in Vancouver dropped by 21.3 per cent in the past month. However, that doesn't necessarily indicate falling prices, only a change in the mix of houses sold, reflecting the decline in upper-end home sales.
But despite the fact the slowdown seems concentrated where the foreign buyers are, it appears that the foreign buyer tax had little to do with it, at least at first. Home sales on Vancouver's affluent west side fell by more than 38 per cent in June, year on year — well before the provincial government announced a 15-per-cent foreign buyer tax in late July.
Some market observers say a crackdown by the Chinese government on illicit cash flowing out of the country dampened the flow of cash into Vancouver's housing market well before the new tax was introduced.
The Chinese government announced earlier this week it had arrested 450 people in connection with illegal transfers of money out of the country. The flow of cash out China is estimated to have slowed to US$49 billion in June, less than a third of the US$171 billion that flowed out of China last December.
"Even without a decline in house prices, the housing downturn will be a drag on the economy," the Capital Economics report said. "Lower home sales means a decline in ownership transfer costs, a.k.a. realtors' fees, and lower housing starts will translate into a decline in home construction spending."
British Columbia could be particularly hard hit, economically, from a housing-market slowdown. Real estate and construction account for more than 26 per cent of the province's economy, the highest share of any province.