Average GTA condo rental rate hits $2,000 a month as landlords increase ahead of controls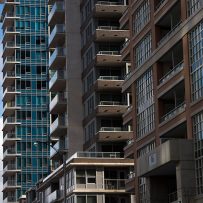 Landlords are boosting rents to try and beat new rent control rules brought in across the province in April
Rental rates in Ontario soared just before the province implemented its expanded rent control rules in April, according to a report out Friday.
Condominium research firm Urbanation Inc. said the 5.1-per-cent jump in rents from the first quarter to the second quarter was the largest quarterly increase on record and sent the average rent in the Greater Toronto Area condominium market to $2,073 per month — based on average rent of $2.89 per square foot and an average condo size of 717 square feet, which was down from 741 square feet a year ago.
"It's reasonable to suggest that rents for units that came up for lease were pushed higher than otherwise would have occurred due to the new rent control rules, in an effort by landlords to offset lost future rent growth," said Shaun Hildebrand, senior vice-president at Urbanation.
Ontario on April 20 expanded rent control across the province to include buildings constructed after 1991 so they are now subject to rent increases tied to inflation that are capped at 2.5 per cent. Landlords are allowed to reset rents to market rates once a tenant moves out.
Another consequence of the change in policy — predicted by many in the real estate community — could be less tenant turnover as renters take advantage of increases that can only be tied to inflation.
Urbanation calculated the average length of time between condo apartment lease transactions and found it climbed to 21.5 months in the second quarter from 20.9 months in the first quarter of 2017. It was 17.9 months a year ago.
The real estate company said transactions in the GTA reached record levels with the number of condo apartments leased through the Multiple Listing Service hitting 8,328 units in the second quarter, a 12-per-cent increase from a year earlier, which was also the previous high.
"As the ownership market softened in the weeks following the provincial government's new housing measures in April, the rental market tightened substantially against a backdrop of already record levels of demand that intensified as some buyers moved to the sidelines," Hildebrand said.
Some of the rental activity increase was driven by new supply as total listings rose eight per cent from a year earlier due to higher condo apartment completions. The leases-to-listings ratio in the second quarter was 87 per cent, which was an all-time high.
Actual listings at the end of the second quarter were off 13 per cent from a year ago to 1,125 units, which is the lowest second-quarter number since Urbanation started tracking such data in 2011. The 1,125 units were the equivalent to two weeks of supply.
In the purpose-built rental market, the vacancy rate dropped to 0.1 per cent in newer stock, down from 0.5 per cent a quarter earlier. Average rents for available units increased by 11 per cent annually to $2.67 per square foot.
"Despite the announcement of the extension of rent controls to new buildings, the number purpose-built rentals proposed for development continued to increase in the second quarter, although at a much slower rate than previous quarters," Urbanation said.
There were nine projects and 1,719 units added to proposed inventory during the second quarter, which compares with 2,453 units a quarter earlier and 5,645 units a year ago.
Financial Post