Attracting Tenants with Online Advertising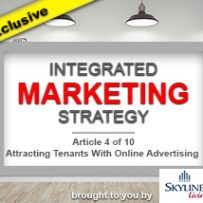 Story by: Sarah Rodrigues | Skyline Living
Advertisements are an important part of any apartment rental marketing strategy. While print advertising still has its uses, most of this advertising has gone online. Use online marketplaces, Internet Listing Service (ILS) providers, and your website to target your prospective renters where they are searching.
Online Marketplaces
Kijiji and Craigslist are examples of online marketplaces, where users can place ads for apartments along with essentially any other product imaginable. Kijiji is one of Canada's most popular websites, with approximately 11 million visitors per month. Craigslist is less popular in Canada, but ranked very highly in the United States.
One drawback with online marketplaces is that if everyone is using them, it can be difficult to make your ad stand out. For example, there are almost 100,000 ads on Kijiji for apartments in Ontario and Quebec. Marketplaces often start out with free listings for small businesses and charge large companies to use the service or to feature their advertising.
Internet Listing Services (ILS)
ILS providers are specific to the apartment rental industry – these include sites like Gottarent, ViewIt, RentHello, and RentBoard. They can be free or paid, and have varying options to customize and feature your listings.
The question landlords always ask is "What is the best ILS?" The answer is, it depends. Some sites only operate or perform better in specific geographical markets, and others are targeted at certain groups or demographics. For example, RentQuebecApartments.com is obviously only for Quebec properties, and Places4Students caters to students from specific schools.
Following a portfolio-wide strategy of listing every property with a limited selection of ILS providers may seem like the fastest way to get your ads out there, but it is not necessarily the best way to spend your money.
One of the main benefits of ILS sites is that you can target to smaller, niche markets and be where your competition isn't. Perhaps every apartment available in your area is listed on Kijiji, Gottarent, and RentHello. Smaller ILS sites are available, but "no one is on those," so you ignore them. However, if your competitors are not on those sites, it gives you a chance to stand out. Would you rather be on a site with lots of traffic and thousands of ads, or a site with minimal traffic but only a dozen ads?
For example, as a very small community, Port Elgin often gets lumped in with Owen Sound on listing sites. Fortunately, because we know that Skyline's Port Elgin apartments are perfect for employees of Bruce Power, we can advertise them on Bruce Power's Housing ILS. This very small site only has about 20 ads total, yet the conversion traffic and return on investment from these ads is significantly higher than other more mainstream ILS sites.
Website
As I discussed in last month's article on digital strategy, if you don't already have a website, you need one.
Your website serves as your best online advertisement. Because you control the content and format, you can ensure that your listings provide all the information prospective renters will need, including photos, rent prices, availability, and amenities. If you can get prospects on your website, you have their full attention.
Tips for Making Online Ads Count
Have a headline that will attract attention.
Put commonly searched keywords (like apartment, pet friendly, and parking) in the most prominent areas of the ad.
Fill in every available field, as many sites allow users to filter their results by the field criteria.
Customize your ads as much as possible to reflect your brand.
Always link back to your website.
Include the maximum number of photos. If possible, upload videos and floor plans as well.
Include a price.
Those against including pricing in ads argue that rent prices vary too much between units to post a single price, and that additional fees may apply. The simple truth though is that ads with prices get more traffic. On most marketplace and ILS sites, users sort or filter by location first, then price. If your ad does not have a price, it either gets excluded from the search altogether, or placed at the end. Include a price to avoid getting stuck on page 27. If you're concerned about variation in pricing, add a price disclaimer to your ad copy.
The last tip for making ads count is to measure and track them, which I'll be discussing in August. Next month I'll be discussing print advertising, and whether or not it is still useful and relevant in the digital age.
About the author: Sarah Rodrigues is the Marketing Coordinator for Skyline Living, a division of the Skyline Group of Companies, which operates 142 apartment communities in 46 cities across Ontario, Quebec, Alberta, and British Columbia. She has worked in communications, project management, advertising, and marketing in a number of industries. Feel free to connect with her on LinkedIn.