Assessment values for B.C. condos and townhomes rise in double-digit percentages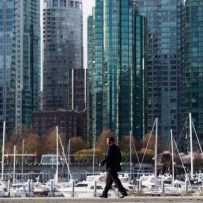 Last month, B.C. Assessment warned owners of "typical" condos and townhomes that their latest assessed property values would increase in the range of 15 to 30 per cent. But for some, the rise captured at mid-2016, is even higher, mirroring trends of between 30 to 50 per cent in the detached home market. A few outliers posted blistering surges of almost 60 per cent.
Single-family home prices in Metro Vancouver had already been rising in double-digit percentages when, last January, there were the first signs of upward momentum in the condo market. Before this, condo prices had been flat or declining for years.
Now, B.C. Assessment is giving single examples of what it considers typical properties with much higher increases, even though these July 2016 snapshots are likely in flux as the market has since softened. These include a Lynn Valley townhouse, built in 1979, that posted a 38 per cent gain. It cited a townhouse in the Citadel area of Port Coquitlam, built in 1994, with a 34 per cent rise. In Port Moody's Newport, a unit in a highrise, built in 2005, posted a 25 per cent rise and a downtown New Westminster townhome, built in 1993, went up by 36 per cent.
"This has been the talk of the town and I've been inundated with calls from residents concerned about the impact on property taxes and eligibility for the homeowners grant," said Port Coquitlam councillor Brad West.
"The assessments highlight how detached the real estate market has become from the reality of most regular peoples' lives. It's clear to me that there must be a better way of assessing property values than a once-a-year calculation made at the very peak of the real estate market madness that occurred last year. It has produced a skewed valuation that looks good on paper, but is not real. It is an absolute necessity that the government raise the threshold on the homeowners grant."
Mayor Richard Walton of the District of North Vancouver emphasized that while many assessments are up "dramatically in the 30 per cent range…the critical factor (for homeowners trying to figure out how an increase will impact their tax bill) is how each property increase compares with the average tax increase for the community."
He added: "As such, I have no report from our tax department what the average increase is. I know that my home was assessed 33% higher and I am not at all pleased. Even at the peak last summer, it was not worth that much and I will be appealing."
For multi-family units on Vancouver's westside, B.C. Assessment cited a low-rise unit, built in 2002, with a 25 per cent gain and, on the east side, a highrise unit, built in 2003, with a 20 per cent gain. In Burnaby, it highlighted a Metrotown highrise unit, built in 1999, with a 19 per cent gain.
Postmedia took its own quick gauge, dipping into buildings and complexes to find several that exceed the ones highlighted by B.C. Assessment. At 1033 Marinaside in Yaletown, a lower unit posted a gain of 34 per cent. At 2088 Madison in Burnaby, near Brentwood Town Centre, an upper unit saw a 35 per cent rise. Buildings in areas where new zoning has sparked pricey sales and redevelopment activity, such as around Burrard Street in the West End, saw more extreme increases. A higher unit at 1330 Burrard Street saw a 60 per cent gain, while a lower unit posted a 48 per cent increase.
In the past, market analysts said that compared to single-family homes, there was a greater supply of condos and townhomes that are more affordable for a larger number of buyers and this was helping to keep a lid on prices. 
Said Michael Ferreira, managing principal at Urban Analytics: "It's typical for the apartment/condo market to trail the detached market in terms of the amount of value increase. (There is) much more demand relative to supply in the detached market. You just need to look at the number of apartment/condo starts compared to detached starts … to illustrate that."
"It's "pretty crazy indeed. Amazing that people still suggest supply isn't an issue in the market."
In many of these areas, the fact there wasn't any new development for several years allowed pent-up demand to be released when new product was put on the market.  Quick sales drove up prices, he said.
"This isn't the only factor, but when you combine it with the arrival of new buyers in the market and a 'fear of missing out' mentality among buyers, you can see why prices have risen so considerably."