AS MORE PEOPLE ARRIVE DURING ALBERTA'S POPULATION BOOM, HOUSING LAGS BEHIND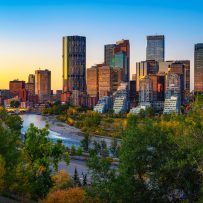 More than six million people are projected to live in Alberta by the end of the next decade as the economy zooms forward and the population boom continues.
Newcomers to Alberta — from other provinces and other countries — are helping to fuel the province's economic resurgence, filling thousands of vacant jobs.
The population surge is also amplifying an economic conundrum that can't be ignored: Alberta is seeing a housing crunch that is sparking hefty rent increases in several cities and pushing up home prices.

And it's happening while housing affordability, compared with other provinces such as Ontario and British Columbia, has remained a key draw into the province.

"Housing supply is failing to keep up with population growth, putting pressure on house prices (especially in Calgary) and rents (across Alberta)," states an economic report released last week by the Business Council of Alberta.

The business council, a group that represents the heads of more than 130 large companies across the province, wants to see more people attracted to Alberta, but also recognizes that a housing challenge is mounting and needs a broader discussion.

It's prepared a chart that illustrates the dilemma.

Since the beginning of this century, the number of new houses built in Alberta has closely tracked population growth, except for a brief period of undersupply during the energy boom a decade ago, and oversupply when oil prices collapsed and at the start of the pandemic.
However, the sudden surge in population over the past year is sending the province into unfamiliar territory since 2000.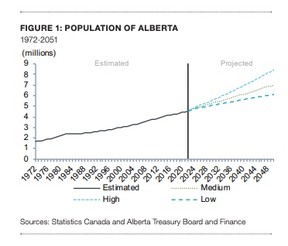 The business council estimates 20,000 households (each one representing about 2.6 people) moved to Alberta during the fourth quarter of 2022, and another 17,000 during the first three months of this year.
Yet, only 7,000 to 8,000 new homes were completed during each three-month period.
"The demand for new homes in Alberta is skyrocketing . . . There's a gap there of roughly 10,000-plus homes being needed compared to homes being completed," said council vice-president Scott Crockatt.
"People moving to Alberta is fantastic. It is exactly what our economy needs. But the housing challenge is not going to go away if we ignore it, and it won't solve itself."
After several years of losing people to other provinces last decade while the economy stumbled, the trend has reversed course.

Alberta's population grew by 165,000 people last year and topped 4.7 million earlier this year. The province added nearly 57,000 people between January and March.

It has become a magnet for newcomers, many relocating to find work or attracted by the more affordable housing options, compared with eye-watering prices in cities such as Toronto and Vancouver.

But it's also becoming tougher to find a place to live, with renters and homebuyers feeling the crunch first-hand.

"In Calgary and in Alberta, we have an incredible shortage of housing," said Christian Twomey, chair of the Calgary Real Estate Board (CREB).

"We are at inventory numbers that are so low, we have not seen (them) for a couple of decades now."

Last month, Alberta was the leader among provinces for annual growth in rents, according to a Rentals.ca report. Average rents for purpose-built and condo apartments shot up by 18 per cent to more than $1,550.

In Calgary, average rents also jumped 18 per cent from a year earlier, exceeding $2,000 a month for the first time. Calgary is now the fourth-most expensive place to rent among the country's biggest centres, although still well behind the average of $3,300 in Vancouver and $2,800 in Toronto.
In Edmonton, rents have increased 14 per cent to average $1,368.

For those facing hefty rent increases or looking for a new place to live, the search for shelter has become a frustrating exercise.

Calgarian Krislyn Jagt received a rent increase slipped under the door of her two-bedroom apartment in Acadia earlier this year, effective in May. It ultimately pushed her monthly rent up to $1,580 from $1,375.

"I was told that in order for (them) to stay competitive on the market, they had to implement rent increases to match what other units are going for," she said in an interview.

"I'm not planning on living in that apartment forever. I thought about the future and I thought about how this is making that dream of owning a home in Alberta more unattainable."

After unsuccessfully looking for another place, she agreed to accept the hike.

Similar situations are unfolding across the province.

In Edmonton, Jay Couling and her partner have been searching for a new place since May, but are facing a steep jump from their current rent. They've looked at about 30 different places.

"The more I look, the more disheartened I'm becoming," Couling said in an interview, after speaking at a news conference last week held by NDP Leader Rachel Notley to highlight housing concerns.
"At this point, I've had to sit down and re-evaluate the budget multiple times."

According to a report by Canada Mortgage and Housing Corp. (CMHC) in January, vacancies in the purpose-built rental market in Calgary fell to just 2.7 per cent earlier this year, its lowest point since 2014.

"What we're seeing right now in the community is a lot of panic, in terms of the ability to secure housing," said Meaghon Reid, executive director of Vibrant Communities Calgary.

"Even when people do have fairly sufficient income, that's not enough anymore because there just isn't sufficient supply."
Calgary in the midst of 'extreme seller's market'
It's not just the rental market that's escalating.
The Calgary Real Estate Board reported record sales in June of 3,146 units, surging 11 per cent from a year ago.
Even with 10 interest rate increases from the Bank of Canada since early 2022 to cool down inflation, the residential benchmark house price in Calgary climbed to $564,700 in June, up more than four per cent from a year earlier.
Meanwhile, the number of homes for sale last month tumbled 36 per cent from a year ago, dropping to the lowest point in June in almost two decades.
CREB's Twomey, a local realtor, calls it an "extreme seller's market."

"All of the booms that Calgary has gone through before have been directly associated (with) the price of oil and gas. In this situation, that's not the case," he said.

"There are simply not enough homes right now, not only in Calgary and not only in Alberta, but right across the country."

Alberta's population is expected to keep growing, increasing by 2.5 per cent annually between last year and 2025, states the province's latest population outlook forecast.

With demand looking strong, the building of new homes hasn't kept pace.

Housing starts in the province dropped to 14,000 units in the first half of the year, down 18 per cent from the same time last year, CMHC reports.

In Calgary, it's remained flat year-over-year, although a number of larger apartment developments are moving forward.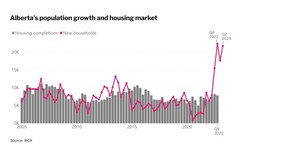 "With what we're seeing with construction cost and interest rates, it's definitely become a more challenging environment for developers to build," said Michael Mak, a CMHC specialist in housing economics.
"There are around 20,000 housing units under construction right now in Calgary and that's at an all-time high . . . The vast, vast majority of that is in the apartment units."

Michael Brown, president of Trico Homes, noted the ability of the industry to build more homes has been constrained by a lack of available labour, including skilled tradespeople.

The timeline to build a new home has improved, although it's sitting just under a year, he noted.

With migration levels into Calgary expected to remain strong, Brown expects robust demand for new homes will continue over the next five to seven years.

"One thing I am quite concerned about is our actual ability of the industry itself to meet the demand of the new Calgarians and new Canadians coming in. We have a limited (amount) of labour," he said.

"It takes a person maybe one month to move into a community. It takes them a year to build a home. It's just going to take us some time to catch up."

Seniors, Community and Social Services Minister Jason Nixon, who made an affordable housing announcement on Monday, said there's no doubt Alberta is short housing, calling it a complex issue that will require diverse solutions.
Nixon said the province's focus on affordable housing may also need to expand, "to deal with more broader market issues in housing across the province, particularly in Calgary as we continue to see our economy surge, and more and more people move to our province."

The NDP has called for the provincial government to form an all-party committee to find solutions to address the housing crisis.

Governments at all levels need to respond to housing challenges with various policies, such as opening up new areas for building, zoning property for lower-cost and multi-generational housing, and speeding up the municipal building-permit process, said economist Ron Kneebone of the University of Calgary's School of Public Policy.

"Over 100,000 people in the next two or three years will be coming to this city and we better be prepared for it," said Kneebone.

"We are all in this together and we all have to talk about solutions."
Story bu: Calgary Herald