As housing affordability continues to erode in Vancouver, calls for action grow louder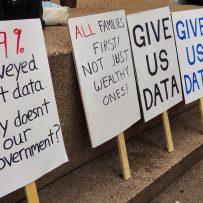 Story by:  Michael Aynsley | BuzzBuzzHome
It seems every time the Greater Vancouver realtor board releases their monthly statistics package, house price records are broken. Of course, the argument could be made that the regional picture is skewed by the high-end home sales in Vancouver proper.
In June, the benchmark price for detached houses on the west side of the city hit $2,599,700, while east side prices ended the month at $1,093,900. Compared to 2005 levels, those figures are up 159 per cent and 134 per cent, respectively.
But the growth is not indicative of local income levels, which leaves many to speculate that foreign investment and absentee buyers are the driving force behind the runaway housing market. Even Vancouver Mayor Gregor Robertson recently called on the province to amend local government legislation to allow municipalities to track property ownership and take steps to limit "excessive vacancies."
Responding to the mayor in writing, BC Premier Christy Clark balked at the idea that foreign speculation is to blame. Referencing an analysis by the Ministry of Finance and the BC Real Estate Association, Clark wrote: "Local investors are three to four times more active in the region's housing market than foreign investors." The same analysis cites estimates that "foreign buyers" likely make up "less than five per cent of home sales activity in Greater Vancouver"
Where's the hard data?
The operative word in the Ministry/BCREA's report is "estimates." According to Ian Young of the South China Morning Post:
The expert opinion that formed the basis of the ministry's analysis was that of the BC Real Estate Association and its chief economist Cameron Muir, who wrote to the ministry on May 28.
Muir's 10-page letter admitted there was a lack of hard data on foreign ownership and suggested it be monitored. Nevertheless, Muir also cited a host of data which he claimed supported the BCREA's less-than-5-per-cent theory.
But there are enormous inadequacies in the BCREA's analysis.
Chiefly among them, Young writes, is the fact that the association cites foreign occupancy as a substitute for foreign ownership:
Even worse, by setting "foreign owners" or "foreign investors" as the focus, the analysis ignores foreign money: that is, foreign-sourced wealth that is poured into Vancouver real estate by rich immigrants, who conveniently escape the BCREA's "foreign" designation.
The people want hard data!
Besides the mayor of Vancouver, opposition MLAs have also called on the ruling Liberal party to start compiling data on foreign speculation — a proposal that is supported by 79 per cent of Metro Vancouver residents, according to a recent Angus Reid survey.
Then there's the #DontHave1million hashtag, created by Eveline Xia to ramp up dialogue surrounding Vancouver's skyrocketing house prices and what, if anything, can be done to improve affordability. Xia also organized two rallies in support of data collection on foreign investment and absentee buyers.
'We're looking into looking into it,' says province
In his June 24th column, Vancouver Sun scribe Pete McMartin wonders how the provincial government can admit there is a lack of data but then quote the BCREA study that suggests offshore investors had a negligible effect on the housing market. McMartin put it to the Ministry of Finance: why won't the government track offshore investment in real estate as other jurisdictions around the world have done? The Ministry's response:
"The Province recognizes that home ownership affordability can be challenging in BC, particularly in Vancouver. The Ministry of Finance is studying this issue and considering measures that could alleviate some of the challenges British Columbians face. Government would need to proceed very carefully before considering measures that would force down the value of people's assets and prevent sellers from obtaining a fair market price. Government continues to study the factors that contribute to relatively higher real estate prices in Vancouver. Part of this research includes assessing whether any additional data should be collected. The Lower Mainland has historically been an expensive market, primarily driven by economic activity, rising population due to in-migration, and a constrained geography."
So, if the government's study determines that they should start collecting and studying foreign ownership data, how might that work? From BNN:
Andrew Yan, an urban planner with Bing Thom Architects who studies Metro Vancouver's real estate market, said one option is for data to be compiled through BC Assessment. The provincial Crown corporation estimates property values on behalf of B.C. municipalities, which in turn use the information to determine tax rolls.
What would a remedy look like?
And if the government does start collecting data, and if that data does show that foreign ownership is at least partly to blame for the sky-high house prices, then what?
Tsur Somerville, director of UBC's Centre for Urban Economics and Real Estate, recently sent a letter to the premier and mayor, outlining some ideas on how government might promote affordability without hurting the equity of existing homeowners. As the Globe and Mail reported:
"We believe that almost all BC residents would benefit from a provincial property-tax surcharge that exempts units satisfying owner residency and occupancy tests," [Somerville and two colleagues] wrote in their letter. "This would allow the tax burden to fall more heavily on some mix of non-residents and vacant units as determined by the government."Back in
May, Vancouver real estate marketer Bob Rennie recommended that a tax be put on people flipping properties. From the CBC:
"What if we were to look at a tax on people who sold something within a month of buying it, within three months of buying it, or six months of buying it, or nine months of buying it and then had a declining tax? he said."

"What would you do with the money? If we looked at helping, encouraging the affordability side for first-time homeowners… whether it's $5,000 or $10,000, $15,000 or a $20,000. There could be some matrix involving residency, length of residency, and income."
But would any such measure actually improve affordability? The fact of the matter is Vancouver is a highly desirable place to live, and unless the city starts to actually have winters and the ocean and mountains disappear, it will continue to be a highly desirable place to live to those who can afford it.
Are economic downturns and rising interest rates the only events that could ever really affect house prices? Unless the government does take steps to explore the unknown impact of foreign ownership, we may never know.