As Canada's economic engine stalls, can other industries pick up the slack?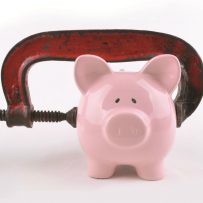 Story by: TAMSIN MCMAHON AND DAVID PARKINSON | The Globe and Mail
Since the Great Recession, Canada has relied on two key elements to keep its economy humming: oil and real estate. But after a rough start to 2016 that dealt fresh blows to the beleaguered energy segment, the big question is whether other industries can power the Canadian economy through an extended resource slump – and whether debt-laden Canadians consumers can still be counted on to be part of the solution.
Oil's fast retreat, which accelerated again this week amid fears of a supply glut and a deepening slowdown in China, has lengthened the shadow the depressed energy sector was already casting on the Canadian economy. Meanwhile, fresh trade figures suggest that the plunging Canadian dollar, expected to be a source of support to the country's exporters, may be increasingly weighing on consumer demand for imported goods. This adds to nagging concerns that consumers, who for years have been a key source of growth thanks to prolonged low interest rates, are overindebted and running out of steam.
Economists have been cutting their forecasts in recent weeks, and most now expect the Canadian economy to grow by significantly less than the 2 per cent that the Bank of Canada forecast in its quarterly outlook in October. The central bank will issue new forecasts on Jan. 20, and most anticipate it will trim its 2016 call to around 1.6 per cent or 1.7 per cent.
With the resource slump sapping the economy of income and stifling the country's biggest sources of business investment, economists are still counting on consumer spending to fuel the country's sluggish economic growth this year – aided by a resilient labour market outside of the oil-heavy regions and continued low interest rates following two Bank of Canada rate cuts last year. The central bank looks unlikely to raise rates at all in 2016, and many observers believe it may cut one more time in the next few months.
But with household debt running at a record 164 per cent of disposable income, economists say the years of high spending and rising debt have drained the capacity for growth from the consumer side.
Toronto-Dominion Bank expects consumer spending, which has averaged 3 per cent a year for the past decade, to slow to about 1.5 per cent next year, below the overall gross domestic product growth rate, a break from historic trends.
"People will still spend," said TD economist Brian DePratto. "It's more a matter of degree. The bonanza years, the credit boom, they're a thing of the past."
Advertisement
Until recently, consumers had been a rare bright spot in a sea of gloomy economic news. Nationally, the housing market powered through 2015, with overall home resales rising roughly 10 per cent last year and prices up more than 7 per cent. Much of that growth came from just a handful of sizzling markets around Vancouver and Toronto, which more than offset plunging home sales in Alberta and Saskatchewan.
Booming confidence in the housing markets in Ontario and B.C. helped fuel strong retail sales. Retail spending grew at an annualized rate of 2.1 per cent in October (the latest figures available), driven by record vehicle sales and a surge in housing-related spending on building materials, furniture and appliances. And cheaper prices at the gas pump put an extra $1-billion in consumers' pockets, according to retail analysts Keith Howlett, Chase Bethel and Hanbo Xiao at Desjardins Securities.
Yet economists expect a less supportive story in 2016.
"We're not expecting to beat that very strong performance of 2015," said Royal Bank of Canada economist Robert Hogue. "Let's call it a soft-landing scenario."
He estimates overall existing home sales will grow by less than 2 per cent this year, with sharper downturns in oil-sensitive western markets and strong, if less eye-popping, growth in Toronto and Vancouver.
While a mild real estate slowdown isn't likely to have disastrous effects for the economy, it will reverberate well beyond the housing market.
Homeowners tend to spend more when the value of their homes is rising. Known as the "wealth effect," a strong housing market increases household net worth and helps fuel confidence in the future, making consumers more likely to go out and spend. TD's Mr. DePratto estimates that the wealth effect drives about one-fifth of consumer spending, meaning that even a mild slowdown in the housing market can weigh on the economy, although such shifts typically take years to play out.
Despite record-low interest rates and falling government bond yields, mortgage rates have already begun to rise from last year's lows, albeit modestly. Higher down payment rules for government-insured mortgages are also expected to be a drag on the housing market, particularly in more expensive cities such as Toronto, Vancouver and Calgary.
RBC's Mr. Hogue thinks last year's Bank of Canada rate cuts have probably already worked their way through the housing market and are unlikely to keep driving demand in the year ahead.
"Unless the Bank of Canada cuts again, the stimulus for housing demand is pretty much all worked in by now."
Consumers are also grappling with their high debt levels. Even as interest rates have fallen, Canadians are now spending 14 per cent of their disposable income on debt payments, a near record. Last month, the Bank of Canada warned that the number of Canadians whose debts make them vulnerable to an economic shock had doubled from 4 per cent to 8 per cent, since before the global financial crisis.
Those cash-strapped consumers will also begin to feel the effects of the fall in the loonie this year through rising costs of imported goods. Consumers will pay as much as $5-billion extra this year in food costs, adding between $173 and $345 to the average annual household food budget, Desjardins estimates. That will more than eat up the savings from lower gas prices and the federal government's new middle-class tax cut.
"We expect real consumer spending growth to slow to its softest non-recession pace in the past 50 years," Bank of Montreal chief economist Douglas Porter wrote last month.
Without a big contribution from consumers, most of the hopes for 2016 hang on two other key sources: A rebound in exports and the planned boost in infrastructure spending from the federal government.
The sinking Canadian dollar – which this week fell below 71 cents (U.S.) and has lost 25 per cent of its value against the U.S. currency in the past 18 months – has been expected to be a boon to non-resource exporters, making their prices more attractive to foreign buyers and boosting their profits in Canadian-dollar terms. Add to that the solid growth expectations for the U.S. economy, and demand for Canada's exported wares has been expected to contribute substantially to Canada's growth.
But while non-energy exports as of November (the latest data available) were up nearly 10 per cent for the year to date, the growth has been sporadic, stalling over the past several months after a summer surge. Non-energy export volumes were up only a modest 2.2 per cent over that period, and again have faded from their summer peak.
"We're heavily dependent on foreign demand in terms of influencing the forecast," said Beata Caranci, chief economist at TD. "In the second quarter, it started to materialize, but we need it to be sustained."
On a hopeful note, economists believe that exports still have much of their currency-related gains ahead of them. Research suggests that currency movements have a substantial lag in their effect on exports – it takes 18 to 24 months before the peak impact is felt. Half of the loonie's decline since mid-2014 has come in the past eight months, and about a quarter in just the past three months.
However, evidence also suggests that currency effects on Canadian trade have become more muted in the post-recession era. Part of that has to do with the evolution of Canadian exports, which have increasingly become intermediate supply-chain goods, providing parts and materials for U.S. manufactured products that face their own export dynamics, rather than consumer goods that feel a more immediate impact from currency moves.
So while the weak loonie has quickly raised prices for consumer goods being imported into Canada, many Canadian exporters aren't yet seeing the full benefit of the low currency.
"You get the pain before the gain," said CIBC's Mr. Tal. "That's the story for at least the first half of 2016."
The new federal Liberal government's plans to increase spending, especially on infrastructure investment, could also help pick up some of the economic slack this year.
"Almost all of the expected modest pickup in growth in 2016 will stem from increased federal government spending," Sal Guatieri, senior economist at Bank of Montreal, said in a research report this week. However, he cautioned, those gains will be "offset somewhat" by fiscal belt-tightening by provincial governments.
TD's economists are counting on only a 0.1-per-cent contribution to GDP growth from all levels of government spending. Part of the issue is that infrastructure projects take time to get going, and thus much of the growth benefits from the federal government's spending plans might be felt further down the road.
"I think [the infrastructure impact] will come at the back half of this year, and then more predominantly into next year," Ms. Caranci said.
But at least Ottawa is stepping up to make capital investments. Business investment is expected to actually subtract from GDP for the second successive year as the income-starved resource sectors cut spending again.
The Bank of Canada's quarterly Business Outlook Survey, to be published Monday, could provide critical clues about whether non-resource companies are prepared to fill at least some of the void left by the collapse of resource sector spending. The last survey, in October, indicated that spending intentions were on the rise, both for investment in machinery and equipment, and for hiring. Monday's report should give us a better idea whether their spending resolve has been eroded by the deterioration in the economic outlook over the past three months – or, perhaps, been strengthened for non-resource exporters by further declines in the dollar.
Regardless, economists say the rise in non-resource investment will likely be very gradual, as businesses see a sustained and growing need to expand their capacity to meet demand, especially from the United States. Again, they say the benefits will likely come more in 2017 than in 2016.
"It's a transition year, allowing the force of the lower Canadian dollar to impact the Canadian economy," Mr. Tal said. "I think 2017 will be a much better year."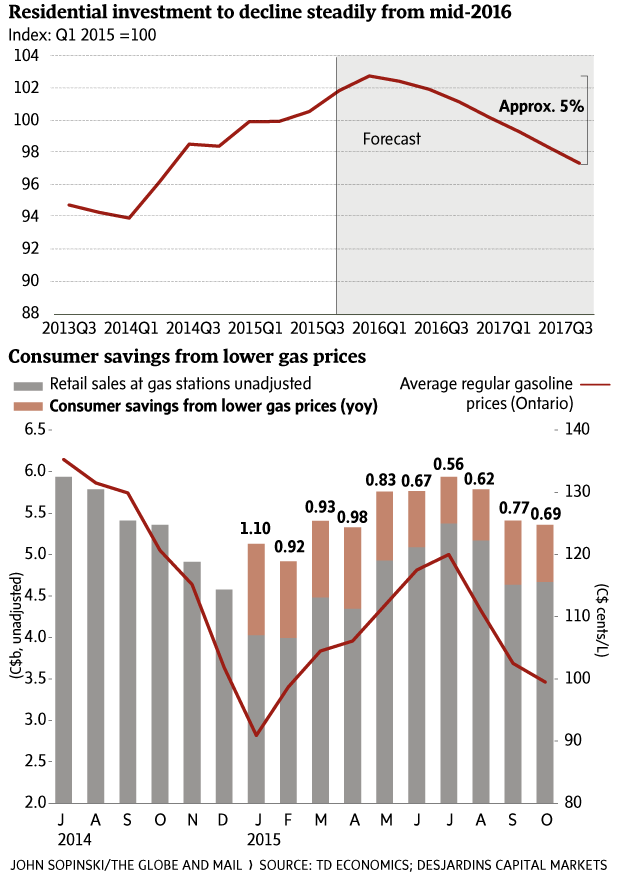 Follow us on Twitter: David Parkinson @ParkinsonGlobe, Tamsin McMahon @tamsinrm