Aquilini purchase of Olympic Village condos seen as pure real estate deal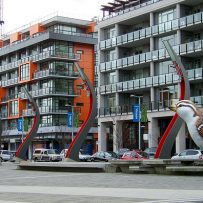 Sports team owners often buy land near their teams' home arena, so the Aquilini Group's decision to buy 67 Olympic Village condos for $91 million fits a pattern.
But sports business experts feel the Vancouver Canucks owners' move to snap up the False Creek residences — not far from the team's Rogers Arena home base — is more of a quick real estate play than a long term business plan to boost revenues.
Los Angeles Kings owner AEG invested heavily in land near the club's Staples Center home rink to create L.A. Live — an entertainment complex filled with bars, theatres, restaurants and apartments.
The Aquilini family envisions a similar value-added presence near Rogers Arena by building three new commercial/residential towers on adjacent property and by proposing to build a new practice facility on the northeastern portion of the False Creek lands.
But Langara School of Management instructor Aziz Rajwani said the Olympic Village deal hearkens back to the Aquilini Group's business roots and expertise — buying an asset for a certain price and selling it for a profit.
He said the family's 2005 purchase of the Canucks for an estimated $207 million — for a franchise now valued at about $700 million — was as much a real estate deal as it was a hockey transaction.
"The Aquilinis come to the table as real estate experts because they have really honed their skills in that area," Rajwani said. "Even when they bought GM Place and the Canucks, it wasn't all about hockey. It was more about real estate in the first place because they acquired adjacent land (to the arena) that they're developing now."
He noted the two ownership groups that tried to buy the Canucks nine years ago — the Aquilini family and the Gaglardi group — both had strong backgrounds in real estate.
"So they were really looking at the Vancouver Canucks as the Vancouver Real Estate Canucks," Rajwani said. "It was a combination real estate play and hockey team play."
Sports marketing consultant Tom Mayenknecht said the Aquilini Group's Olympic Village condo purchase is a "terrific community relations gesture" that allows the city to close the books on its controversial involvement in the project.
"It's a real estate move, first and foremost, but it certainly has good optics for Aquilini Investment Group because it is also good news for the taxpayers of the city of Vancouver," he said. "In my mind, it's a win-win proposition. I see it as indirectly connected to what they would do as real estate developers of their Canucks-centred holdings."
bconstantineau@vancouversun.com
Read more: http://www.vancouversun.com/business/Aquilini+purchase+Olympic+Village+condos+seen+pure+real+estate+deal/9785343/story.html#ixzz30r9Cys6U