APARTMENT CLEANING NOW A BIGGER SAFETY FACTOR FOR LANDLORDS, PROPERTY MANAGERS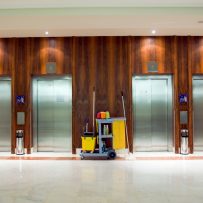 Property managers aren't going to risk guessing how and when to clean their apartment buildings during the COVID-19 pandemic. Instead, they're heeding and keeping an eye on guidelines from public health officials.

Cleaning and more precisely keeping apartments and buildings safe have taken on a new meaning since the words coronavirus and COVID-19 became part of our daily language. Rentals.ca spoke with a few property managers and a cleaning company to see how the new pandemic is changing their cleaning routines and protocols.

Cleanliness has always been a priority for Greenwin Property Management, says Robert Weiman, vice-president, quality assurance and compliance, Greenwin Corp.

"So when the COVID-19 pandemic reached Canada, we were well-positioned to act fast," he said. "One major thing we did was contract a company to apply a bonding antimicrobial treatment to all high-traffic areas and heavily touched surfaces. This treatment is effective for up to six months."

The company is also cleaning its buildings three times a day.

Weiman acknowledges the use of more products as a result of cleaning more often comes at a cost, "but it's worth it to keep our residents safe. We'll definitely be following the guidance of Canadian and local health authorities."

Greenrock Real Estate Advisors has also implemented specific measures. It's using the GermGuard Treat and Protect Program. Registered by Health Canada, the treatment is said to kill up to 99 per cent of germs on contact.

Greenrock researched the top cleaning programs in Canada before deciding to use the GermGuard Treat and Protect Program, says Justin Taylor, COO of Greenrock Real Estate Advisors.

"The program is highly trusted and used by many health organizations and companies, including the TTC (Toronto Transit Commission)," Taylor adds.

Securing personal protective equipment and its cleaning product supply chain have been the biggest challenges property managers have faced regarding new cleaning measures.

"Even prior to this crisis, we already had standardized protocols to ensure a high level of cleanliness across all of our buildings, so when it came to increasing these measures, the framework was already in place," Weiman says.

Safety and cleaning recommendations by public health officials

Health Canada, Toronto Public Health and The Canadian Federation of Apartment Associations have all issued cleaning recommendations for property managers, which include upgrading cleaning schedules, and cleaning high-touch surfaces, such as door knobs, door handles, key pads, mail boxes, handrails and elevator buttons, more frequently, at a minimum of twice a day.

Toronto Public Health has also advised building operators use only disinfectants that have a drug identification number (DIN). Health Canada provides this number, which confirms the product is approved for use in Canada.

Greenwin is using hospital-grade disinfecting products, such as Oxivir Tb Wipes and Sanicare Quat, which are on Health Canada's list of products.

Other products on the list, which are available in stores, include Lysol Multi-Surface Cleaner, Lysol Disinfectant Spray, Clorox Disinfecting Wipes and Clorox Disinfecting Liquid Bleach.

Over in Midtown Toronto, in the lobby of a building run by Colonia Treuhand, a bottle of hand sanitizer sits on a table alongside printouts about COVID-19 from government websites. A notice by the elevator, which has also been distributed to residents, reveals the building is undergoing additional daytime cleaning of frequently touched surfaces.

"Please be assured that we are and have been closely following the instructions and guidelines issued by national and regional health authorities," the notice says.

Rhapsody Property Management is also putting in extra effort, by extending the cleaning hours of common areas until 11 p.m., besides cleaning its high-touch surfaces twice a day.

Cleaning companies adopt new COVID-19 measures

In terms of the actual cleaning, the task may fall to the superintendent or a cleaning company. For these companies, COVID-19 has also resulted in new protocols.

Michal Lewandowski, CEO of Life Maid Easy, told customers that cleaning staff will enter properties wearing fresh masks and gloves, that the interior and handles of its vehicles will be disinfected daily, and that the outside of all cleaning supply and product containers will be disinfected between each property.

"We recognize the ongoing and increased uncertainty that COVID-19 is causing, and our highest priority is the health and well-being of all of our employees and customers," he says.

Greenrock has a team of regular cleaning staff for each of its residential and commercial properties, says Taylor.

"(They) have been doing an amazing job before and during the pandemic. While we have increased cleaning overall with additional third-party cleaners, our cleaning team continues to take care of the people and families in our buildings," Taylor says.

And buildings' residents are noticing the extra effort.

"They added a hand sanitizer dispenser by the elevator on the first floor," says Debbie C., who lives in a Toronto apartment. "I feel like they're putting in some effort, and that they're doing the best they can."

Weiman says Greenwin has also received compliments on its staff.

"(They) really are the heroes in this situation for showing time and time again how committed they are to making our residents feel safe in their homes," he says.
Story by: Rentals.ca