ANOTHER INTEREST RATE HIKE COULD BE A MISTAKE, CIBC ECONOMIST WARNS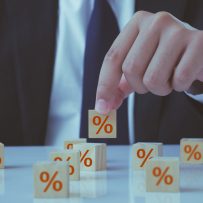 The Bank of Canada is expected to raise its key interest rate once again next week, a move an economist at one of Canada's largest banks says is likely a mistake.
In a report released last week, CIBC senior economist Andrew Grantham wrote that the Bank of Canada's recent rate hike and any subsequent ones are "at best unnecessary, and at worst a mistake."
In an effort to curb inflation, which peaked at 8.1 per cent last year, the Bank of Canada introduced a series of interest rate hikes that have now brought the benchmark rate to 4.75 per cent – the highest it's been since April 2001.
The latest hike of 25 basis points in June was in part due to what the Bank of Canada said was excess demand in the economy and higher levels of inflation.
In its summary of deliberations, the Bank noted that previous rate hikes were "not sufficiently restrictive to bring supply and demand back into balance and return inflation sustainably to the two per cent target."
But Grantham said a key factor may have been overlooked.
"It is possible that past rate hikes are already having a bigger impact on demand than perceived, but we are focusing too much on growth rates rather than the level of spending," he wrote.
"Indeed, inflation-adjusted spending on items that are usually considered most sensitive to interest rates has risen by almost 15 per cent since the first hike was delivered last year… However, looking at the level relative to 2019 tells a very different story."
Grantham said that the volume of spending in "interest rate sensitive areas" is still one per cent below levels in the fourth quarter of 2019.
"That would obviously be even worse in per-capita terms, given the strong population growth seen recently," he added.
He said areas normally considered to be interest rate sensitive sectors include some that were hardest hit by either supply chain issues, such as automobiles, or pandemic-related restrictions, including the travel and hospitality industries.
"Classifying recent growth in such spending as pent-up demand would be a bit misleading, as households aren't on average eating out more often or going on an extra vacation to make up for the pandemic years. Rather, it is simply a normalisation of activity following a very abnormal period," he said.
Grantham noted that while there are still some supply chain issues impacting spending, "these issues are improving" and may not be entirely responsible for a shortfall in spending in these areas.
"In other words, rate hikes may already be working to slow demand, and the true test in terms of growth rates is still to come," he said.
"If rate hikes have already been working to cool demand more than is apparent by simply looking at growth rates, history could show that the recent Bank of Canada rate hike (and any subsequent moves) was at best unnecessary, and at worst a mistake."
Story by: CP24