Announcing the ANNUAL, a comprehensive market perspective for the rental housing industry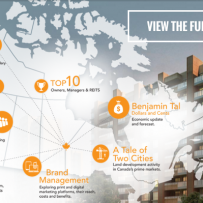 Another first in the apartment industry!
The Annual, a special, industry specific periodical, brings relevant, timely information and data with a single minded approach; "What does the Apartment industry need to know?"!  With that as our goal we turned to industry experts from coast to coast, Association Executives, Government sources and Apartment Owners & Managers to bring you the most complete and thorough industry resource.
This extensive report showcases for the first time an all-in-one format of industry reports, insight and analysis, providing you with vital information to identify and analyze market needs, size and competition.
Developing a standalone resource guide with vital and practical information is never an easy undertaking. There are reasons why in-depth, analysis and forecasting has never been done in this form and on this scale for our industry. Time, resources and industry knowledge are required to deliver a comprehensive report respecting both Regional and National apartment owners and managers while allowing them to respond to market needs, size and competition.
This has been a labour of love because as Canada's National Voice for the apartment industry, RHB Inc. prides itself on always delivering the latest news and information that help our industry maintain a competitive advantage.
We work hard to be first; RHB, National magazine with verified readership, RHB Newsreel, dedicated website with apartment industry specific news and information, RHB Insider Network, showcasing industry experts in an interview format and now the Annual…
The most comprehensive analysis of our industry and a must for everyone who purports to be part of our great industry!
The full edition is now available online at www.theannual.ca