ALL-WOMEN DEVELOPMENT TEAM ADVANCES SOCIAL-HOUSING PROJECT NEAR VANCOUVER CITY HALL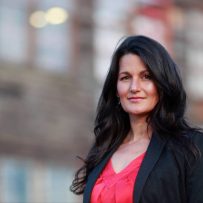 The City of Vancouver has approved a rezoning application for a social-housing development for and by women.
The developer says it's the "first of its kind in Canada and possibly even North America".
"What is especially unique about this project is that it is being delivered by an all-women team," Carla Guerrera told the Straight in a phone interview.
Guerrera is the founder and CEO of Purpose Driven Development, a Vancouver-based company working with the Soroptimist International of Vancouver (SIV) to redevelop the charitable organization's property on West 13th Avenue.
Volunteer Soroptimist organizations operate around the world with a mission to improve the lives of girls and women. SIV's development site is located near Cambie Street and is currently home to a three-storey affordable-rental building for senior women.
A new 13-storey building will replace the current Soroptimist Apartment House that contains 21 studio and one-bedroom units. A Vancouver staff presentation to members of city council states that rents at the present site range from $450 to $800 a month.
The new development at 546 West 13th Avenue will be geared toward seniors, single mothers and their children, and working women. The 13-storey building will feature a mix of 135 unit types, including studios, one-bedroom, two-bedroom and three-bedroom units.
The staff presentation to council noted that SIV has received B.C. Housing funding under the provincial agency's Community Housing Fund program. With this funding, the development will be able to "deepen affordability" for the new units at the project near Vancouver City Hall.
The presentation stated that 20 percent of the homes will be offered at so-called deep-subsidy rates. Fifty percent of the units will be at "rent-geared-to-income rates, with an income maximum set at Housing Income Limits (HILS) levels".
B.C. Housing sets the annual HILS, which differs across cities. HILS represent the minimum annual income required to afford appropriate accommodation in the private market.
In Vancouver, the 2021 HILS are as follows: $57,500 for one bedroom or smaller, $69,000 for two bedrooms, $80,000 for three bedrooms, and $88,50 in the case of four bedrooms.
To illustrate, a HILS of $57,500 translates to annual rent of $17,250, using 30 percent of income for housing cost as an affordability measure. This means a monthly rent of $1,437.50.
The staff presentation to council about 546 West 13th Avenue said that the remaining 30 percent of homes in the project will be offered at "affordable market rates".
Guerrera told the Straight that the market rates at the new development will be 15 percent to 20 percent below market rent in the neighbourhood.
"We've had some great support from all three levels of government who really believed in this project," she said.
In addition to funding from the province, Guerrera said that the development is getting support from Canada Mortgage and Housing Corporation through a grant and low-cost financing.
For its part, the City of Vancouver is waiving $2,500,388 in development cost levy (DCL) charges because the project qualifies as social housing.
A separate staff report to council explained that the city requires social housing to "include a minimum of 30 percent of units as affordable to households with incomes which fall under the B.C. Housing Income Limits (HILs) levels, while the remaining 70 percent can be at market rents".
An application booklet submitted as part of SIV's rezoning application also acknowledged the funding support by the Vancity Community Foundation.
The soroptimist organization in Vancouver has an impressive history. Online, SIV says that Vancouver professional women formed the first soroptimist club in Canada on April 24, 1926, and it became "only the second within the British Empire".
"In 1931, as the Depression hit," the organization says, "they aligned themselves with another group of unusual women—the Police Women of Vancouver who had established a hostel for unemployed and low income women called Dunromin. Initially they donated money but a year later took it over."
"Thus began the Soroptimist Club of Vancouver's real estate odyssey. What began with a hostel in 1932 eventually became in 1960 Sor[o]ptimist Apartment House at 546 [W]est 13th. They were the first Soroptimist Club on the continent to open an establishment to house low income senior women.
"They continued buying and selling real estate until in 1970 they partnered with the Kiwanis Club of Vancouver to open a complex of ninety suites for low income seniors," SIV notes on its website.
In addition to the Soroptimist Apartment House, SIV co-owns with the Kiwanis Club of Vancouver a seniors' residence called Southwynd Place (8080 Yukon Street).
Vancouver city council approved the rezoning application for 546 West 13th Avenue on July 13.
Guerrera said in the interview that an application for a development permit will be submitted to the city in a few weeks. Construction is expected to begin in August 2022.
"We are working as a team to deliver this project in a very male-dominated industry," Guerrera said. "We're really focused on showcasing the leadership of women in the industry to deliver housing for women."
Story by: The Georgia Straight