'All the uncertainty is erased': 7 Canadian business leaders share their hopes for Trump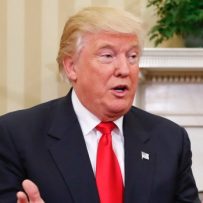 Nicole Gibillini, BNN.ca Staff
Donald Trump addresses the press in the Oval Office, The Canadian Press
Donald Trump's U.S. election win early Wednesday morning took many Canadian business leaders by surprise. While the consensus seems to be that it's too early to know the short-term repercussions of the Republicans' clean sweep, the president-elect's proposed policies will undoubtedly affect businesses based north of the border over the long term.
Speaking to BNN in the days following the vote, here's what some of the country's top business leaders had to say about what they expect from a Trump presidency:
Gary Berman, President and CEO, Tricon Capital
"I think these expectations that a lot of things are going to change – we'll see. I think what we do know is we know there's probably going to be a lot less regulation – that's a real positive for business and certainly for Tricon. In terms of his economic policies, he's talking about lower taxes and more fiscal stimulus. Those are inflationary pressures. And if you believe there's going to be inflation, that's excellent for land development and home building. We're going to be the beneficiary of that."
Tricon Capital Group CEO: U.S. housing market will remain strong under Trump
Gary Berman, President and CEO of Tricon Capital Group joins BNN's Catherine Murray for a look at what drove Q3 earnings, and what catalysts are play both in the Canadian and U.S. housing markets.
Edward Sonshine, CEO, RioCan REIT
"There's been a seismic shift in what's going on in the world and that will impact Canada in ways that may not be obvious. I think NAFTA will be okay. He's a businessman. He understands business and he understands money. I'm not sure that our political leaders here in Canada do. We're going to be left behind. I'm afraid that as the United States get more competitive…we may be hurt in the long-term and maybe even in the medium-term."
"The short-term impacts on our business are actually probably not that relevant. If anything, we might see more money flowing in with the dollar where it's at. I don't see any short-term impact for Canada. I think two-three years from now we may be feeling it."
Don Lindsay, President and CEO, Teck Resources
"We were surprised as many were. But I have to say that we're a 100-year-old company. We've dealt with governments in all sorts of jurisdictions all around the world – whether they be provincial governments, federal governments – and we'll deal with the new [U.S.] administration as well.  We have the Red Dog mine in Alaska, which is one of the best mines in the world […] so there will be discussions; but, at the moment, I don't see much change."
"I am encouraged though because [Trump] has talked about a lot of spending on infrastructure. And I think if you travel the world and go to Asia and see new infrastructure you'll realize that not just the U.S., but Canada too, new infrastructure would be something that a lot of people would appreciate."
Donald Guloien, President and CEO, Manulife Financial
"All the uncertainty is erased. The U.S. economy has actually been improving pretty nicely. We've seen rates going up and the steepening of the yield curve has gone up since September.  There's going to be changes for sure but nothing for our business."
"I think the Canadian government has already showed a willingness to talk about NAFTA and renegotiate if necessary. And NAFTA is clearly good for all participants… and I don't think we are going to see a stop in trade, especially with partners as close as Canada and Mexico."
Dean Connor, President and CEO, Sun Life Financial
"It's too early to tell what kind of big impact [a Trump presidency] is going to have in our industry. If it results in higher long-term interest rates…that's obviously a good thing for life insurance companies and a good thing for Sun Life. Specifically around the Affordable Care Act, which has obviously been a subject of debate, it's not clear what changes will be made or if changes will be made to the Affordable Care Act in the end."
Alain Bellemare, President and CEO, Bombardier
"It's very speculative. There's a new administration. It will take time for them to decide their new policy on immigration, trade and tax. So I don't see any short-term impact. Could there be some challenges? Maybe. But at this stage I think it would be way too early to speculate."
"Clearly we would applaud a pro-business, pro-growth agenda. We believe in this – and anything that would stimulate the U.S. economy and that would help stimulate the world economy would be good; and it would be specifically good for our business aircraft in our case." 
Hal Kvisle, former CEO, TransCanada and Talisman
"As for Mr. Trump's statement that [the Keystone XL] needs to somehow benefit Americans more: I think the key benefit is the dependable supply of crude oil for their refining system from their single-best trading partner. That I think he'll come to see in time as the big benefit of Keystone."