Alberta's metropolitan markets reaping the fruits of economic recovery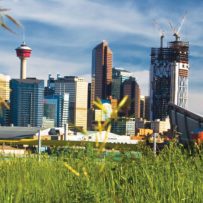 Amid a gradual climb in the aftermath of the oil downturn several quarters ago, Alberta's economy is finally giving steam to the long-struggling housing markets of Edmonton and Calgary, according to CMHC regional economist Lai Sing Louie.
Edmonton has been projected to experience a 10% increase in home sales this year (up to 18,800 transactions), making it the hottest market on the Prairies. Meanwhile, Calgary's residential sales volume was forecast to increase by 6% in 2018.
These trends represented a reversal of a two-year decline in both metropolitan markets.
However, despite the strong projections for Edmonton, Louie warned that city isn't in safer harbors yet.
"It's a strong rebound but a lot of people are worried about their jobs. They're still coming out of the recession in Alberta. They're getting growth but it's from a low level," he told Western Investor.
And the increasing number of people moving out to other provinces certainly doesn't bode well for Edmonton in the near future.
"Traditionally Alberta gains people from other parts of Canada but due to the difficult job environment, it's slowing the number of people coming to Edmonton," Louie said.
Most crucially, Calgary is still reeling from the oil price crashes a couple of years ago, which has led to prolonged weakness in the city's job security and household income.
"Oil prices dropping was a punishing blow to the [housing] market," Louie stated. "We expect prices to rise in 2019 but in the low single-digit range. We won't be seeing the days when prices were going up by more than 30%."
"Office vacancy rates are still about 25 to 30%. One in four buildings is empty."