Alberta: The current state of rental and subsidized housing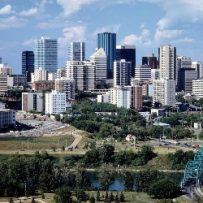 Story by: Ephraim Vecina
Alberta is lagging behind the rest of the nation in terms of rental supply, according to the Calgary Homeless Foundation's director of research and data.
In a contribution post for Rabble.ca, Nick Falvo noted that the difference in rental unit availability between Alberta and the Canadian average has widened in the past 25 years.
"One likely contributing factor here has been large in-migration to Alberta over the past several decades," Falvo wrote. "Another is higher incomes in Alberta, which reduce demand for rental stock (because when it comes to housing, higher-income households tend to prefer buying over renting)."
Falvo calculated that at present, Alberta has around 28 apartment rental units for every 1,000 people, just a little over half that of Canada as a whole (54 units per 1,000 people). 
Subsidized housing in the province has also fallen off sharply in the past few years, Falvo said. Alberta has only 7 per cent of all subsidized units in Canada.
"I think at least two factors have led to this discrepancy. First, in years past, some Alberta governments weren't big fans of subsidized housing for low-income households (by contrast, the current provincial government recently announced the near doubling of provincial spending on housing)," Falvo explained. "Second, as mentioned above, Alberta has experienced rapid population growth over the past several decades."
Falvo said that the CHF has joined the ongoing consultations for the development of a national housing strategy, with a particular focus on increased public spending on social housing and supportive housing.
"It also calls for stable and predictable funding for non-profit housing providers, the need for increased rental stock generally and the need to focus specifically on the housing needs of First Nations, Inuit and Métis persons," Falvo stated.