ALBERTA RENTAL MARKETS SHOWING EARLY SIGNS OF BIG GAINS ACCORDING TO HOPE STREET, AN ALBERTA BASED PROPERTY MANAGEMENT COMPANY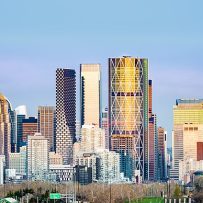 Hope Street Real Estate Corporation, an industry leading tenancy management firm specializing in residential rental management releases Winter 2022 report on Alberta's private rental markets showing early signs of drastic increases in residential rental rates, decreasing residential vacancy rates, and decreasing DOM (Days on Market).
According to Shamon Kureshi, Hope Street's President & CEO:

Alberta's rental markets have begun what appears to be a prolonged incline after nearly a decade of stagnant growth. A perfect storm of contributing factors are working in consort to drive up rental rates, investment property prices, and to drive down effective rental vacancy rates.

No dominant single factor appears to be driving this shift in the rental real estate economy; instead – a perfect storm of smaller factors are working in consort to drive up prices and drive down vacancy rates.

Canadian cross city investors are creating increased demand on the province's secondary resale markets. Real estate investors from other parts of the country, specifically Toronto and Vancouver are infusing demand and capital into Alberta. Agents within Hope Street's sales team report that up to 50% of buyer clients reside in Canada's large centres. House prices within the secondary market are in the midst of pronounced gains, notably a significant portion of recently sold homes had done so quickly, with multiple competing bids, often for $100,000+ above initial listing prices. Many such investor buyers have reported significant inflationary gains in equity within their primary residence from their home cities, but sky high prices for investment real estate in Canada's larger centres make real estate investments out of reach for many big city homeowners. We believe this to be a leading indicator pointing to equally sizeable gains in the province's rental markets in the months to come, allowing for existing fixed term lease agreements to mature, then renew at rates consistent with the new market realities.

A pronounced market correction appears to be taking place, further driving up real estate acquisition and rental prices. Notably, Alberta has not seen any significant change in rental rates for the past decade. Inflationary growth in secondary resale markets and rental rates throughout the past 10 years has been negligible at 0.6% gain in real estate sale prices, and -1.6% in rental rates. Notwithstanding; the past decade has seen significant upward pressure on building costs, labor, wood, property taxes, insurance, utilities, etc. which adversely affect Landlord's expenses with no corresponding increase in rental rates.

We define Accidental Landlords as private homeowners who, after one or more unsuccessful attempts to sell their property, elect to rent it out until market conditions are more favourable for selling. At times in the past decade, as much as 40% of the province's rental inventory has been provided by Accidental Landlords, who never intended to rent out their properties. The recent trend in the secondary resale market leads homes to sell quickly and often through competing bids which drive up prices, and many of those accidental landlords who have been waiting for the right time to list their rental property for sale are concluding that the right time is now. As a result, many Accidental Landlords are issuing non-renewal notices to their tenants as lease maturity dates approach, selling off their property and creating increased tightness in Alberta's rental markets by removing inventory.
Looking Forward, the initial trends are clear and we do not anticipate any significant changes to the current market trajectory in the coming months. We believe that both rental rates and secondary resale prices are on an upward trend and today's buyers of investment real estate stand to potentially enjoy significant gains in equity and cash flow in the coming months and years.

Hope Street Real Estate Corporation is an industry leading team of property management professionals serving the Edmonton, Calgary, and Vancouver markets. Hope Street has about 50 team members and directly manages the tenancies of nearly 3600 people in Alberta's major centres or surrounding communities.
Story by: Financial Post