Alberta REITs: The latest victim of slumping oil prices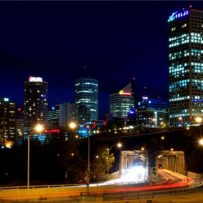 Story by: KATIA DMITRIEVA | Bloomberg News
Oil below $40 a barrel isn't impacting just energy companies in Alberta. Real estate investment trusts that most rely on the province, from mall operators to apartment landlords, are following the commodity down further.
Boardwalk REIT, Northern Property REIT, and Artis REIT most closely follow drops in the oil price among Canadian peers that have at least 20 percent of their portfolio in Alberta, according to data compiled by Bloomberg. The three REITs fell during the crude plunge in 2008 and are among the five worst performers on the Standard & Poor's/TSX Capped REIT Index this year.
"These companies are feeling the drop in oil, especially compared to other REITs who don't have as much exposure in Alberta," Matt Kornack, an analyst at National Bank of Canada Financial Inc., said by phone Aug. 20. "Our thesis has been 'stay away' or be mindful that having exposure to Alberta is going to be tough."
As the price of oil declines, energy companies have laid off workers and slowed expansion plans, cutting the amount of office space needed and making it harder for tenants to pay apartment rents.
Boardwalk (BEI_u.TO 0.00%) has about 57 percent of its units in Alberta, with the remainder in Ontario and other provinces. The occupancy rate of its apartment towers located in Fort McMurray, a hub of oil and gas operations, declined to 85.4 percent in the second quarter from 95.5 percent at the same time last year as workers moved out. The Calgary-based company said that if resource prices stay depressed, it will have a longer-term impact on the company's rental and vacancy rates.
Northern Property (NPR_u.TO 0.00%), another Calgary-based residential REIT, has over a quarter of its units in Alberta, where vacancy for its properties rose to 14 percent in the second quarter from 6.8 percent a year ago.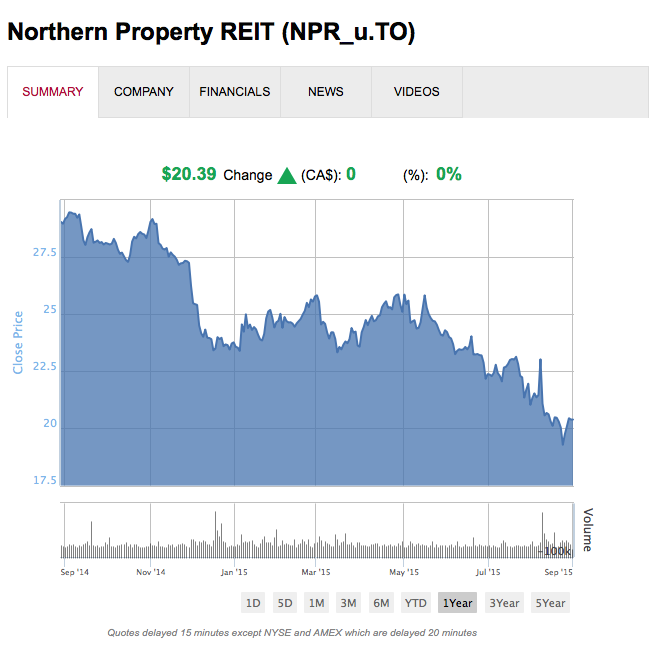 Winnipeg-based Artis is forecasting Calgary office properties rent will decline 3.7 percent to $21.12 per square foot in 2019 from this year, according to company documents.
These REITs have matched oil declines in the past. In the second half of 2008, benchmark U.S. crude fell 68 percent to $44.60 a barrel, and more recently it slumped 55 percent in the nine months through March to $47.60. In both those periods, apartment-owner Boardwalk dropped an average 21 percent, residential landlord Northern Property declined 23 percent, and Artis (AX_u.TO 0.00%), which owns office, shopping mall, and warehouse space, slipped 29 percent.
West Texas Intermediate oil closed below $40 a barrel for the first time since 2009 on Monday. The three REITS are down more than 15 percent this year, almost double the decline of the S&P/TSX REITs index.
"Boardwalk rents remain well below the costs of owning a condominium and continue to provide great value for housing consumers in this challenging economy," Boardwalk Chief Executive Officer Sam Kolias said in an e-mail. The company has lowered rent over the past few years to stay affordable, he said.
Northern Property CEO Todd Cook declined to comment and Artis CEO Armin Martens did not respond to requests seeking comment.
The companies reflect a somber reality on the ground in Alberta. There was a 74 percent jump in the number of employment insurance beneficiaries in June over the prior year, the highest in the country, compared with the national 4 percent rise, Statistics Canada data show. The province's food bank organization called for increased donations this year.
In Calgary, the province's largest city, office vacancy rose to 14 percent with almost half of tenants subletting space as they look to cut costs, according to brokerage CBRE. The city also has 5.7 million square feet of office space under construction, the most in any Canadian city, CBRE data show.