ALBERTA IS ON THE VERGE OF ANOTHER BOOM – WILL IT BE MORE SUSTAINABLE THIS TIME AROUND?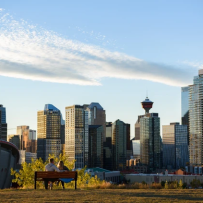 This fall, after the third wave of the COVID-19 pandemic, Royal Bank of Canada surveyed the damage to the Canadian economy and downgraded its economic growth outlook for every province in the country but one: Alberta.
"Alberta was the lone exception. We kept our growth forecast in Alberta at 5.9 per cent," RBC's senior economist Robert Hogue said in an interview, adding he expects Alberta to be home to the fastest growing provincial economy this year, topping the national GDP estimate of 5.1 per cent. In 2022, RBC Economics projects 4.9 per cent real GDP growth in the province (4.3 per cent for Canada), and is on track to fully recover by that time.
Canada's biggest oil and gas producing province is enjoying an economic resurgence after years of contractions and interrupted recoveries since the oil price crash of 2014. Economists say the province's oil and gas industry, buoyed by higher crude oil and natural gas commodity prices, is leading the growth, but the current rebound is not limited to higher oil and gas activity as other sectors including residential real-estate investment, manufacturing and services are also rebounding.
Add it all together and the province that experienced the deepest economic contraction of 2020 is on pace to post the biggest expansion of 2021 and carry those gains into next year.
Hogue said the province's jobless rate, as of data released Nov. 5, is roughly back to pre-pandemic levels with 7.6 per cent unemployment, compared to 7.5 per cent unemployment in Feb. 2020.
Alberta "is digging itself out of a pretty big hole," Conference Board of Canada senior economist Aimee McArthur-Gupta said in an interview, noting that part of the rebound in the province is making up for a deep recession in 2020, when real GDP fell by 8.1 per cent. The Conference Board expects 5.7 per cent real GDP growth this year, followed by 6.1 per cent next year.
Alberta's nascent tech sector is also growing, offering some hope of long-desired economic diversification. Amazon Web Services announced Monday it would spend $4.3 billion on a cloud computing hub in Calgary, bringing in up to 950 new jobs.

The province also posted a record year for venture capital investment in 2020, when 51 deals were struck for $445 million in total investment — a 100 per cent hike in investment over the year before.

"There are so many reasons to be optimistic about Alberta's tech sector," Doug Schweitzer, Alberta's Minister of Jobs, Economy and Innovation, said in a release Monday, adding the province is tracking toward "a record year in venture capital and tech investment, creating thousands of jobs and diversifying our economy."
The province's efforts to diversify its economy and energy sector has also resulted in new hydrogen project announcements and, most recently, a massive expansion and emissions-cutting retrofit of Dow Chemical Co.'s ethylene plant in the province.

The investment rebound is trickling into other parts of the economy.
Home sales in Calgary hit a record for the month of October at 2,186 transactions, and the Calgary Real Estate Board says activity is on pace to hit a yearly record as sales are up 61 per cent over the average of the last five years, and 42 per cent over the 10-year average.

Even as certain sectors rebound, the province faces persistent challenges. In the commercial real estate market, for instance, there are still challenges in Calgary and Edmonton, where vacancy rates increased by 6 per cent during the COVID-19 pandemic, which outpaces vacancy rate builds in Toronto and Vancouver. Avison Young pegs Calgary's downtown office vacancy rate at 29.9 per cent and overall office vacancy rate at 26.1 per cent.

Still, the province's economic rebound is led by its biggest industrial sector. Oil and gas revenues and royalties are hitting fresh records and for the first time in years, investment in the sector is expected to tick up.
"Oil prices have strengthened considerably this year on heightened demand and weakness on supply increases from OPEC+ as well as U.S. shale producers, and we do expect oil prices to stay relatively elevated over the next year," Conference Board's McArthur-Gupta said, noting she expects additional oil exports from Alberta over the course of next year as Enbridge's Line 3 replacement pipeline is now in service and the Trans Mountain Expansion nears completion.

Alberta Finance Minister Travis Toews told the Financial Post the province now expects five oilsands projects to repay their capital costs this year, a critical milestone that ushers those projects into a new, higher royalty framework.

"That has a significant impact on government revenues," he said, adding that in times of high commodity prices, oilsands projects repaying their capital costs can "yield the provinces materially, exponentially higher revenues."
Altogether, Toews said the province expects oilsands royalties to rise more than 400 per cent from an initial budget estimate of $1.5 billion this fiscal year to over $7 billion. "Stay tuned," he said, noting the province would unveil new numbers at its next fiscal update at the end of November.

Under the province's royalty framework, an oilsands project that has yet to repay its capital costs pays a royalty rate of between 1 per cent and 9 per cent on its gross revenues. A project that has repaid its costs pays either 9 per cent of its gross revenues or between 25 per cent and 40 per cent of its net revenues, whichever yields a larger number for the province.

Suncor Energy Inc. announced last week that it had reached "post payout" on its 215,000-barrels-per-day Firebag oilsands project in the third quarter and that all of its assets, with the exception of the Fort Hills oilsands mine, were now in the post-payout period.
Canadian Natural Resources Ltd. also confirmed to the Post that it had reached payout at one of its Albian oilsands mines, which it purchased from Shell Canada Ltd. for $12.5 billion in 2017, this year and is on pace to reach payout at its massive 250,000-bpd Horizon oilsands project next year.

The "painful episode of the 2014-2016 oil shock" forced the Canadian energy industry to cut costs to the point companies are profitable at US$50 per barrel to US$60 per barrel oil prices, Desjardins economists Jimmy Jean and Marc-Antoine Dumont wrote in an Oct. 19 report. "The recovery in prices, productivity gains and a better financial situation put the sector in good shape currently," they wrote.

By some measures, the domestic oil industry has never had it better.
"Oil production in Alberta has never been so valuable," said Charles St-Arnaud, chief economist at Alberta Central, noting that the total value of the oil produced in Alberta reached $9 billion in the month of October alone, "another all-time high."

"Nobody last year would have expected that suddenly we would have the record revenues that we're having now," St-Arnaud said, noting that in the depths of the pandemic's first wave in 2020, the value of Alberta's monthly oil production fell below $1 billion.

"It will have a positive tailwind in the economy. It doesn't mean that we go back to the boom years of 2013 and 2014 because we're not in the same conditions," he said, adding that oil producers are not spending money to expand their production.
ARC Energy Research Institute expects oilsands investment in the province to rise slightly this year after seven straight years of declines. ARC expects oilsands companies to reinvest about $7.6 billion into their projects over the course of 2021, up roughly 18 per cent from 2020 when companies invested $6.5 billion in the oilsands.
In the conventional energy sector, ARC expects companies to reinvest about $23 billion in conventional oil and gas over the course of 2021, up 50 per cent from $15.3 billion reinvested last year.
In the next month, the province's largest oil and gas companies will begin announcing their capital spending plans for 2022, which will mark an important preview of economic activity in the province for the next year.
Oil and gas companies have vowed to rein in spending but the lure of higher oil and gas commodity prices has already lured several companies, including CNRL, into additional spending.

So far, through 2021, the country's largest oil and gas company Canadian Natural has drilled 586 gross wells, which is up 18 per cent from 2020 levels. CNRL said it would look at additional spending once it hits an absolute $15-billion debt target, but president Tim McKay wouldn't tip his hand on whether that additional spending could come next year.

"We haven't decided on our 2022 budget yet. I think, in general, the industry wants to be very prudent with their spending. We've come out of a pretty tough period," McKay said.
As the province's economy attempts to recover, and oil companies are reluctant to spend money on major projects, Alberta will need to see more growth from non-energy parts of the economy.

"Oil producers are not in the mood to use that money to expand production and to create new projects and spend into things that would have multipliers on the economy," St-Arnaud said, adding that "we're in a very different regime than we were in the past."

Rising oil and gas prices will provide a boost to the province's GDP, but "probably less than what we've seen in the past" because there is less spillover from spending on major projects or massive drilling programs.

"It's a different multiplier. The money is getting redistributed into the economy but in a different way," St-Arnaud said, noting the retail and wholesale trade sector, the real-estate sector and professional and scientific services industries.
Story by: Financial Post