Alberta Is About to Be Canada's Fastest Growing Economy Again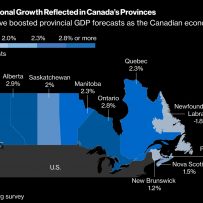 Alberta's economy is more than just back on its feet, it's about to run faster than any other region in Canada.
Gross domestic product in the western province will rise by 2.9 percent this year, according to a Bloomberg survey of economists, up from an April estimate of 2.5 percent. That matches forecasts for neighboring British Columbia, and in 2018 Alberta comes out on top with a 2.4 percent expansion that would be tops among Canada's 10 provinces.
It's a huge comeback from Alberta's last place finish in each of the last two years when oil prices plummeted below $50 a barrel, triggering layoffs and an investment freeze that shrank GDP by about 4 percent. The rebound is another sign Canada may retain its top spot among Group of Seven nations as economic growth diversifies away from consumer spending.
"Everyone should feel good about it, not just Alberta," Bank of Nova Scotia deputy chief economist Brett House said by phone Wednesday from Toronto. "The Canadian economy is firing on all cylinders."
Growth forecasts for this year were lifted in every province in the latest Bloomberg survey that was taken July 7-14. The 2018 survey shows growth is forecast for every province, which would be the first time that's happened since 2011.
Alberta still stands out as the biggest surprise contributor.
Factory sales in Alberta have climbed 18 percent in May from a year earlier. Retail sales are up 9 percent as unemployment fell to 7.4 percent in June from a peak of 9 percent in November, and as government deficit spending gives household budgets a boost. Average weekly wages rose on a 12-month basis by the most in more than two years with a gain of 1.7 percent, Statistics Canada reported Thursday.
Those gains come on top of an energy industry where oil and gas drilling is rising again as companies lowered their break-even costs. To date, the average number of active Canadian oil rigs is nearly double what it was a year ago, and Alberta construction is also being aided by rebuilding after wildfires last year.
'Consistent' Growth
Newfoundland and Labrador, another province tied to oil through offshore drilling, is now expected to grow 0.8 percent next year instead of the 0.1 percent contraction economists projected in April.
"You really are seeing more consistent growth which I think is better from a national perspective," said Michael Dolega at Toronto-Dominion Bank. "It makes things easier as far as policy makers are concerned, especially for the Bank of Canada."
Governor Stephen Poloz raised interest rates for the first time in seven years on July 12 citing a broad recovery and investors predict another move in October. One complication that could arise would be if a rising Canadian dollar and borrowing costs took a big hold on weaker regions of the economy.
The full recovery in Alberta still has some ways to go. Even if output grows as economists expect in 2017, the province's gross domestic product would remain about 5 percent lower than its peak in 2014, before oil prices collapsed. And the jobless rate was regularly less than 5 percent before the oil crash.
More Stable
"It's been a stronger bounce back than people were expecting but it's still not a full recovery yet," Nathan Janzen, senior economist at Royal Bank of Canada, said by phone from Toronto. Royal Bank boosted the Alberta growth call for this year to 2.9 percent from 2.1 percent, the most among the 11 responses in the Bloomberg survey.
Alberta's growth prospects are more stable now that companies have made some progress in competing with lower oil prices brought on by the emergence of shale oil production in the U.S., economists said. That tougher competition also means that the boom times that drew tens of thousands of workers from across Canada probably won't return soon, says Brendan LaCerda at Moody's Analytics.
"They tumbled so hard and they are bouncing back now," LaCerda said. "They can throw a small party, the worst is over."
— With assistance by Erik Hertzberg