Alberta forecasts $10.3B deficit, but promises spending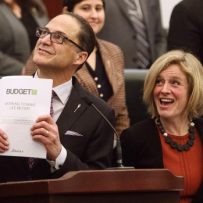 Cash-strapped Alberta is banking on bad times getting better in a fingers-crossed budget that drips red ink but promises a hospital, new schools and more money for seniors and social services.
Critics pounced on it as a selfish and short-sighted blueprint that heralds a looming — and very ugly — day of financial reckoning.
"We are laying the foundation for a return to economic growth," Finance Minister Joe Ceci said Thursday prior to tabling his 2017-18 fiscal plan.
"Are we out of the woods? No. We will continue to bring the deficit down, to balance thoughtfully and prudently, and we will do so without sacrificing the supports and services families need."
There are no new taxes, tax increases or program cuts in the plan entitled Working to Make Life Better.
The budget forecasts a $10.3-billion deficit this year on revenue of $45 billion — slightly lower than the forecasted $10.8-billion shortfall in the fiscal year that concludes at the end of this month.
The budget projects a gradual reduction in the deficit to $9.7 billion in 2018-19 and $7.2 billion by 2020.
But the province is on track to rack up $45 billion in debt by the end of this year, a figure that will hit $71 billion by 2020. Debt servicing costs will be $1.4 billion this year and $2.3 billion by the end of the decade.
Ceci said Alberta's population is still growing despite an economic downturn caused by lower oil prices. Cutting services and deferring capital projects would hurt the economy in the short term and jeopardize prosperity in the long run, he said.
The budget sets aside $4.5 billion over the next four years for infrastructure, including $100 million in new money to help First Nations on reserves get reliable access to clean drinking water.
Health and education spending are on the rise. The budget promises a new hospital in Edmonton, as well as new and renovated senior care homes across the province.
The government has already announced it is cutting school fees for parents by $54 million and plans to build 10 new schools and upgrade or replace 16 more.
At universities and colleges, tuition fees are to be frozen for the third year in a row.
The province is investing heavily in tax credits and other financial incentives to diversify the economy and get off what it calls the "oil and gas roller-coaster."
A new carbon tax, launched in January, is expected to bring in $5.4 billion over the next three years to be reinvested in green projects from energy efficient light bulbs for homeowners to new rapid transit lines.
The budget's forecasts all hinge on oil prices hitting US$68 a barrel by 2020. The bellwether West Texas Intermediate price is currently just under US$49 — a long way from the US$93 a barrel averaged until 2014, when prices cratered before slowly beginning to rebound in 2016.
Ceci said Alberta's economy is expected to lead the way in Canada with a growth rate of 2.6 per cent in 2017. Global economic growth is pegged at 3.5 per cent.
"Substantial risks remain," warns the government's budget analysis. "Weaker-than-forecast global growth would harm Alberta's revenue forecast, as oil prices would remain lower for longer."
Opposition leaders have been calling for the NDP government to curb spending. They say crushing future debtloads will threaten the front-line services Ceci has promised to protect.
Ceci said steps are being taken. He noted the government has frozen and reduced salaries to save $121 million and has streamlined agencies, boards and commissions.
A new deal with doctors is also expected to save $500 million over two years.
Opposition leaders labelled the budget a disaster.
"This is the largest inter-generational transfer of wealth, I believe, in Alberta's history," said Progressive Conservative Leader Ric McIver.
"It's selfish, because this government is spending all this money for today's political gain for them, and children in elementary school today will have to pay it back long after everybody's forgotten the words of the NDP."
Wildrose finance critic Derek Fildebrandt said the NDP has no intention of ever balancing the budget.
"The premier and her finance minister are neglecting even the most basic fiscal controls," said Fildebrandt.
"The mess that they are creating today will take decades to fix."
Alberta Party Leader Greg Clark said before a way can be found out of the fiscal spiral, the government must first find the will.
"To think that there's not even one or two per cent of savings to be found in a $54-billion government [budget] is outrageous. Of course there is," said Clark.
"In a year or two, the debt level is going to be so high that the only choices any government will have will be either massive front-line cuts or massive tax increases, probably both."