Alberta budget 2017-18: What to expect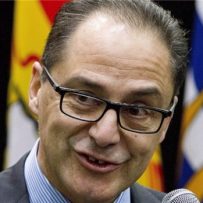 This week, Albertans will get a look at the NDP government's fiscal and capital plans for the year ahead, as well as an outlook for the province's economy.
Finance Minister Joe Ceci will release the budget on Thursday, March 16. And there's a chance some will be disappointed.
"I expect to see another large deficit forecast for 2017-18," says Ron Kneebone, a director with the University of Calgary's school of Public Policy. "This will be justified as being necessary to maintain public services and "front line workers."
Currently, Alberta faces a projected deficit of $10.8 billion as this fiscal year comes to a close on March 31. That figure didn't change in the province's third quarter fiscal update released just two weeks ago, although Ceci says Alberta's economy is improving. After a deeper-than-expected contraction of 2.8 per cent in 2016, Alberta's GDP is now expected to grow 2.4 per cent this year.
The finance minister again reiterated there are signs "green shoots" are emerging, including increased drilling rig activity, exports and employment in the province. A bit of optimism for a province that's seen two consecutive years of recessions thanks to the low price of oil.
"I think the green shoots are real, but I don't think they will be included in the budget. Nor should they be," said Duane Bratt, a political scientist at Mount Royal University. "A budget should be realistic, not a hope."
It's unlikely Alberta will be able to shrink its deficit, said Bratt. "Based on the fiscal update, it looks like it will be as high (or higher) as last year," he said.
The second item Bratt is watching is how much money the new carbon tax is bringing in and where that money is being spent.
The province's across-the-board carbon tax took effect on January 1, 2017, adding costs to transportation and home heating fuels. The levy is expected to raise about $1.2 billion this year alone. The majority of that money will go towards "green investments" in renewable energy, transit and green infrastructure. A portion of it — $138 million in this fiscal year — will be redistributed to low- and middle-income households through rebates.
The provincial budget will also get revenue from another "green" regulation — the fees charged to emitters who produce more than 100,000 tonnes of greenhouse gases per year. How much the Specific Gas Emitters Regulation (SGR) compliance payments could add to the budget is still uncertain, says Trevor Tombe, an economist at the University of Calgary.
The budget may provide "useful clues about how stringent the new CCR will be. They previously expected to raise approximately $900 million in 2018-19. Look to see if the number is bigger or smaller than that," he said.
PRICE OF OIL
The province depends heavily on resource revenue. Thanks to the stabilizing price of oil, its revenue is increasing. In the most recent fiscal update, Ceci said the province is set to make $1.5 billion more than expected.
The government had previously forecast the price of oil at $54/bbl WTI for this 2017-2018 fiscal year. That's a jump from the $48/bbl price forecast the government expected in the third quarter 2016-2017 update and it's a number that anaylsts say is key.
Every dollar more means millions in extra money to help a province struggling to balance the books.
Trevor Tombe, an economist at the University of Calgary, notes that prior Alberta budgets had already "baked in a recovery" to some extent.
Tombe doesn't expect the $54/bbl WTI figure to change: "I think the signs are that this should stay where it is … or perhaps only rise very modestly." He says the provincial government has also forecast employment and profits to begin recovering. "There's no strong case yet to conclude the positive signs we're seeing are much better than the previously expected path of the recovery," he says.
However, Kneebone believes the budget should be based on the current price of oil, which has hovered just over $50/bbl for months. On Thursday, WTI prices opened below that mark for the first time since December 2016. "To spend on the basis of an expectation that prices will be higher is gambling, not responsible budgeting. If they were prudent, they would budget on the basis of $45 oil."
And Kneebone says while the price of oil appears to have stabilized, "the price is nowhere near what it needs to be to close the deficit or even reduce the deficit by a signiticant amount."
SPENDING
Even with the increasing resource revenue pouring into provincial coffers, the gains have been offset by higher spending. With the province doling out millions more in health, education and social services in the most recent update. Many will be watching to see if that rate of spending will continue in this upcoming fiscal year.
Kneebone expects it will: "The rate of spending growth will be promised to be held to the sum of the rates of inflation and population growth which is not what anyone should understand to be a restraint on spending."
"The government often says it is controlling spending, yet total spending has grown faster than inflation plus population growth. Will that change this time?" asks Tombe. He's also watching to see if health spending projections will be lowered, noting the provincial government recently struck a deal with physicians to make changes to their compensation. "They also repeatedly refer to their goal to "bend the curve," he adds. "It will be interesting to see if their efforts have change the future path of spending relative to past budgets."
CAPITAL PLAN
In the 2016-2017 fiscal year, the capital plan was cut by $1.2 billion from the initial budget to $7.3 billion. The decrease was due to delaying projects to future years, mainly due to the progress of projects as well as the impacts of the Fort McMurray wildfires and adverse weather.
Tombe says watch to see if the climate leadership spending will be be in addition to previous capital spending commitments or if prior commitments are revised downwards again.
BALANCING THE BOOKS
And finally, keep an eye on predictions on when the government willl be able to balance the books.
"Will they do what Prentice did, and what Notley did in their first October 2015 budget, and include a five-year forecast?" Tombe asks. "If they don't, that's a further sign they don't know how to balance or haven't decided their future revenue or spending measures."
He adds, "If they do include it, they could easily (and credibly) show getting to balance early in the next mandate."
Kneebone takes a more pessimistic view.
"There will be no realistic plan to reduce the deficit," he predicts. "That, to me, is the headline: We are going to carry on as before and hope for oil prices to rise."