Affordability worse for Canadians looking for rentals, report shows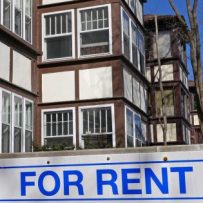 Data shows affordability for low-income Canadians looking for a place to rent is worse than reported in mid-July by the Canadian Centre For Policy Alternatives (CCPA).
The August National Rent Report,  produced by Rentals.ca and Bullpen Research & Consulting, shows that a Canadian making $13 an hour would have to work 62 hours a week to afford the average lower-cost rental, maintaining the recommended 30% rent to income ratio. 
On the lower end of rental prices —  in the 10th percentile —  if $975 per month is 30% of someone's monthly income ($3,250) and the employee works 40 hours a week for four weeks (160 hours), that worker would need to make $20.31 per hour to afford that unit in July 2019. This is an increase from $18.75 in October 2018.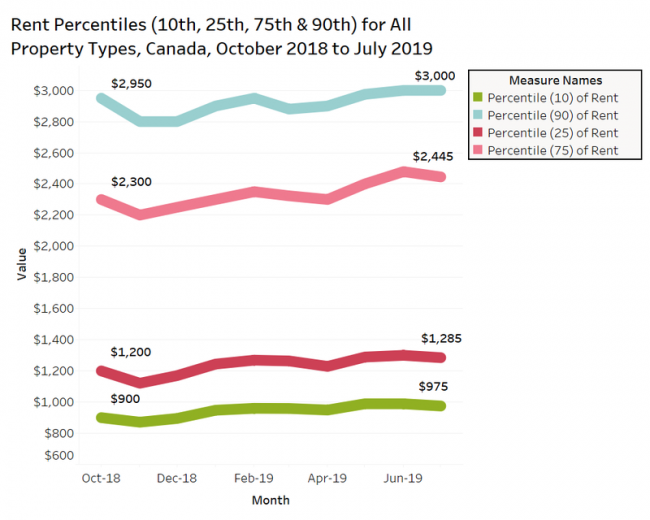 The CCPA's "Unaccommodating – Rental Housing Wage in Canada" report uses data from the Canada Mortgage & Housing Corporation, which calculates rental rates on most all units, including those under rent control. The data comes from the asking price of landlords for vacant units. 
The CCPA says about its report: "rent is almost always higher for unoccupied apartments."  
Data from October 2018 to July confirms this is true not only for unoccupied apartments, but also for all other vacant rental types. 
The rapid rise in rental rates over the last 18 months, brought on by increased immigration, solid job growth, and the mortgage stress test has hurt low-income workers the most. 
As more than 250,000 new housing units are added to the Canadian market, the rent growth experienced since early 2018 should slow down. This is near the highest level of construction in the country in over 25 years. 
The national average monthly rental rates declined 1.3% in July, following two months of increases. Toronto, Montreal, Winnipeg and Saskatoon all experienced declines monthly, while Ottawa, Vancouver and Hamilton experienced increases.
Toronto and Vancouver continue to lead all cities in average monthly rents. Toronto had the highest average monthly rent for a one-bedroom home at $2,259, but Vancouver had by far the highest average monthly rent for a two-bedroom at $3,089. 
At the bottom of the list with the lowest average monthly rents were Fort Nelson, Saint John, St. John's, Gatineau, Quebec City and Lethbridge.  All six of these cities had average monthly rents for a one-bedroom home under $1,000. 
Other takeaways from the August national rent report include:
The Rentals.ca forecast for the 2019 rental market in Canada called for annual growth of 6%. The expectation was the average property for lease nationally would be $1,861 in December 2019, but at the end of July the market is already up 8.5% since December. 
The most expensive condominium apartments in the Greater Toronto Area are The Heathview, L Tower, Yorkville Plaza, 38 Elm Street at Minto Plaza and Kings Club. 
A tenant in Toronto would need to make $34.90 per hour to afford  a one-bedroom unit in the 10th percentile based on monthly rent accounting for 30% of the tenant's gross income, up from $29.17 in October. For the 10th percentile of two-bedroom units, a tenant would need to earn $39.06 an hour in July, up from $34.38 in October 2018. 
In Ottawa, average monthly rents have increased over the past couple of months from $2,003 per month in April to $2,136 per month in July. 
On a provincial level, Ontario had the highest rental rates in July, with landlords seeking $2,283 per month on average (all property types), a slight increase from June ($2,279). In British Columbia, the average asking rent was $1,889 per month, an increase of 2% month over month, following June's 3% monthly increase. Asking rents in Alberta increased in July for the second straight month, following two months of decline.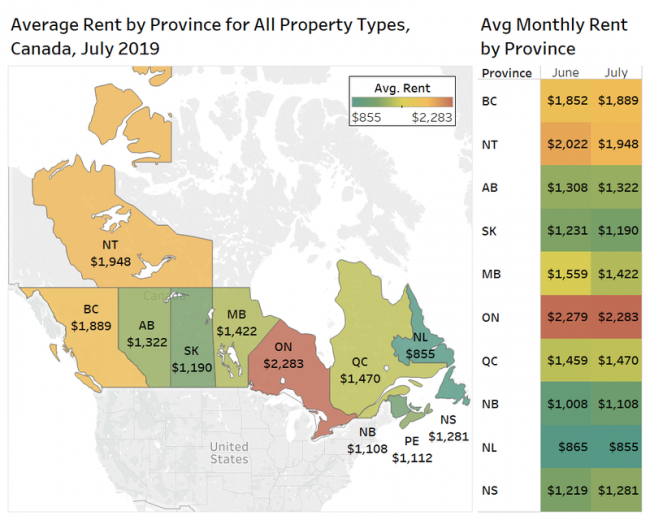 "As expected, changes to the mortgage stress test last year pushed everyone down a rung on the property ladder, resulting in the highest rent growth occurring at the 10th percentile," said Ben Myers, president of Bullpen Research & Consulting. "This means the people who can least afford an increase in their monthly housing costs are the ones being subjected to the highest rent inflation." 
"Housing affordability in Canada is a hot topic," said Matt Danison, CEO of Rentals.ca. "We felt it appropriate to look at what it takes to rent a property at the lower end of the market." 
The National Rent Report charts and analyzes national, provincial and municipal monthly and quarterly rental rates and market trends across all listings on Rentals.ca for Canada. 
The Rentals.ca numbers show vacated properties that better reflect current values. The figures better represent the actual rents a potential tenant would encounter when seeking to rent an apartment. 
 For more information, contact Matt Danison at md@rentals.ca or Ben Myers at ben@bullpenconsulting.ca