A TALE OF TWO CITIES WITHIN EACH CITY: RENTAL ISSUES UNDER COVID-19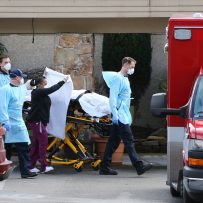 Thanks to COVID-19, rental demand has followed two different paths. Rental demand is down for high-end apartments in the downtown core of Canada's major centres; whereas, so far, it is largely stable in suburban markets and in secondary and tertiary markets, except for those markets dependent on universities which have not returned to live instruction.
Those observations come from the Operations Roundtable held as part of CFAA's Fall 2020 webinar series. The panelists were Ruth Buckle, Senior Vice President, Property Management, at Killam Apartment REIT; John Loubser, Vice President, Operations, at Timbercreek; Jonathan Brimmell, Director, Multi-Residential, at Oxford Properties; and Kris Figurski, Regional Director (Canada East) (covering Saskatchewan and Manitoba), at Weidner Apartment Homes.
The panelists reported that rental demand is down significantly in the central areas of Montreal, Ottawa, Toronto, Calgary, Edmonton and Vancouver. Apart from high-end apartments, such as those aimed at empty nesters, rental demand is fairly solid in the suburbs of those cities, and in Winnipeg, Kelowna, Kamloops and many other secondary and tertiary markets. The markets in Regina and Saskatoon are fairly stable and consistent with the pre-COVID situation.
Ruth Buckle reported that higher end student buildings in downtown Halifax, and London, Ontario were affected by fewer international and out of province students. However, many university students returned in Fredericton and Charlottetown, which sustained student rental demand in those smaller markets.
Besides commenting on the various rental markets, the panelists addressed operational risks facing rental housing providers. Not surprisingly, keeping employees and tenants safe is high on their lists.
Kris Figurski shared the US experience in which some rental complexes have seen the entire operating staff and site office staff struck down by COVID-19. Various companies have now split their work forces to try to keep two halves separate to avoid that problem.
To combat "COVID-19 fatigue" among tenants in problem buildings, John Loubser reported bringing in public health speakers (and even the Red Cross) to speak and staff tables in building lobbies, to give tenants the message that they must wear masks and practice physical distancing.
According to Jonathan Brimmell, Oxford Properties sees the economic slowdown as a chance to hire good people for the future.
All the panelists see opportunity in continuing to work remotely and to travel less in the future than before COVID-19, and in harnessing the power of technology to show and rent apartments remotely.
If you want to find out more from the Operations Roundtable, register for the upcoming three remaining live webinars in CFAA's Fall 2020 Webinar series. With that registration package, you will receive access to the recordings of all six webinars, including the Operations Roundtable, the Executive Roundtable, and Benjamin Tal's Fall Economic Update.
You will also be able to take in:
What you need to know NOW about CMHC's new mortgage insurance rules, Tuesday, Nov 10, a must for companies planning capital expenditures (capex), for groups of owners ("syndicates") some of whose members want to invest in additional rental property, whereas others don't, and for people buying new rental housing assets! You may well not be able to extract any equity you put in now.
Technology Updates for COVID-19 and beyond, Wednesday, Nov 18.
Future proofing your business with effective energy and water management strategies, Tuesday, Nov 24.
Register today at https://cfaa-fcapi.org/events-awards/webinars/!
CFAA Direct and Affiliate Members who want their preferred pricing need to email events@cfaa-fcapi.org before completing their registration, for their discount code. Affiliate Members are members of CFAA-member associations.
Story by: John Dickie, CFAA President