A perfect storm for action on affordable housing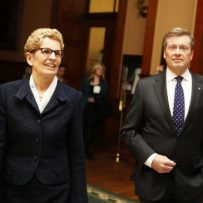 Story by: Mitchell Cohen | TheStar.com
The political stars are aligned, so it's time for every one of us to become a champion for affordable housing.
John Tory is in the Toronto mayor's chair. Premier Kathleen Wynne leads a progressive team at Queen's Park. And a federal election is on the near horizon.
These three ingredients provide a perfect storm for action on affordable housing.
Further study isn't needed. We all know that secure, affordable housing is a fundamental determinant of both individual and community health. We also know that close to 100,000 people are on waiting lists for social housing in the city of Toronto alone, and that much of the city's stock of affordable homes is almost beyond repair.
Nor is further debate needed about who should take responsibility. The answer is simple — all of us need to put our shoulders to this wheel.
Let us all, as individual citizens, take this responsibility seriously by electing a federal government next fall that will implement a national housing strategy. It has been 30 years since our government made homelessness, transitional housing and the need for affordable homes for every Canadian a top priority.
In the meantime, there is much that can be done today. The right people are in the right places and, most important, we don't need to spend years navel-gazing about what to do. The solutions are in our hands, with the tools to implement them.
The province, for example, can put its significant weight behind affordable ownership programs. Down payment assistance programs have been tested and are working brilliantly. Funds invested by the province allow tenants to become homeowners, while at the same time freeing up affordable rental homes for people on social housing waiting lists. The best news is that this is not a handout but truly a hand up — an investment that keeps on giving through a sustainable, revolving fund that will appreciate over the years.
Municipalities across Ontario also have significant tools at their disposal to make a difference. To date, these tools have not been co-ordinated to achieve maximum bang for the buck. Property taxes can and should be waived not only for affordable rental homes but for affordable ownership homes as well. Additionally, cities can and should waive all development levies and other municipal fees for affordable rental and ownership housing.
Combined, these two measures provide municipalities with powerful leverage to implement inclusionary zoning — the most important tool in the affordable housing tool box. Inclusionary zoning on a city-wide basis creates a level playing field, an opportunity for a constructive partnership between municipalities and private sector developers to create both affordable ownership and rental homes within every new building approved for construction.
The development industry will undoubtedly object, at least at the outset, just as it did over greenbelt legislation 10 years ago. It didn't take long for the best and brightest to adapt to the new reality. Building endless subdivisions at four units per acre quickly became a thing of the past and the most nimble developers embraced higher density approaches to creating new communities.
The same will be true for inclusionary zoning. After an initial outcry, creative minds will turn to implementation, to making it happen.
The key for both the city and development industry is that implementation will happen through the non-profit housing sector, which has remained strong despite several decades in the wilderness. The Co-operative Housing Federation of Toronto, Kehilla Residential Programme, Habitat for Humanity and a host of other experienced agencies will become delivery partners that will support and nurture program participants in their new communities to ensure long-term success.
As we move toward a national housing strategy and begin utilizing all the tools in the affordable housing tool box, there is still more that can be done today.
Non-profit agencies are working feverishly to push back the tidal wave of demand for affordable housing. But each one of them needs help. Dixon Hall, Covenant House, Eva's Initiatives, EGALE, Yonge Street Mission and many more.
Pick up the phone. Call one of them. Engage.
It is time for every one of us to become a champion for affordable housing. Landlords with vacant suites. Church groups with vacant land. Corporations taking "social responsibility" seriously. Individuals looking to make an immediate impact with their charitable dollars.
Let us seize this moment and take action on affordable housing.
Mitchell Cohen is president of The Daniels Corporation, where he leads his company's efforts on the Regent Park Revitalization project, which is providing affordable and market housing in Toronto's east end.