A new play for residential property investing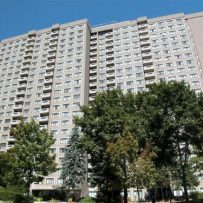 The real estate investment trust sector has a new play for investors looking for exposure to the residential market in Canada and the United States.
Investors jumped aboard Morguard North American Residential REIT after Neil Downey, an analyst at RBC Capital Markets, put an "outperform" rating on its units with a 12-month target price of $11.50.
"With steady-to-improving fundamentals, solid liquidity, and a well-covered, tax-advantaged distribution (6.2% cash yield on a low-70% payout ratio), we see potentially out-sized return opportunity from a materially discounted valuation," Mr. Downey said in a note to clients on Tuesday.
The REIT's units climbed 4.6% on Tuesday in heavy volume. They were up another 6.5¢ to $10.215 at noon Thursday.
Mr. Downey said the apartment building owner has income diversity and stability and long-term growth potential. He points to its regional and economic diversity, with about 60% of its net operating income in U.S. dollars.
He notes the REIT's holdings are of varied product types, price points and tenant profiles and its occupancy levels have been between 95.5% and 97.3% in each of the past seven years.
Morguard's portfolio includes 14 properties with 4,905 suites in Canada and it has 30 properties with 7,945 suites in the U.S.

Mr. Downey said the REIT is limited in its ability to grow because of practical restrictions on raising equity by virtue of it trading at a 33% discount to net asset value. It is also already at a 57% loan-to-value ratio while its peer average is 47%, making raising debt unlikely.
But he's not dismissing the possibility the REIT could up its distribution in the future. "The most conservative stance would be to 'hold the line' on distribution increases given: 1) leverage; and 2) revenue-enhancing capital expenditures opportunities. A counter-view might suggest that even a modest increase could be interpreted as a signal of the Board's confidence in the business, thus providing a catalyst for an improved unit valuation," said Mr. Downey.
The analyst has an upside scenario in which units could climb to $14 based on net operating growth exceeding his estimates by 2% and capitalization rates dropping by 25 basis points. In this scenario, Morguard's units would trade at a 20% discount to net asset value in a year.
His downside scenario has NOI growth falling by 2% and capitalization rates rising by 25 basis points, with units trading at 40% discount to net asset value in a year.
Story by: Gary Marr
The Heathview by Morguard offers new alternative to Toronto's Condo Market with Purpose-built Luxury Rental
Morguard's urban development revitalizes Forest Hill community with first new high-rise rental in forty years.
TORONTO, April 16, 2014 /CNW/ – In a pioneering move for real estate, Morguard launches an unprecedented benchmark for Forest Hill with The Heathview. Leading the rental trend emerging across the city, this new high rise residential development is proving that rental is back and in high demand.
"We expect strong demand for purpose-built rental product in this market," said Brian Athey, VP Residential at Morguard.  "The Heathview is the first new development in mid-town Toronto to provide an alternative to condominiums in a prime location with historically low vacancy rates."
The Heathview's two 30-storey towers feature studio, one, two and three bedroom luxury suites in sizes ranging up to 2,400 SF. With Toronto's strong rental occupancy profile resting above the national average and a young workforce driving demand, The Heathview will meet an untapped need for a wide range of unit types in short supply.

Modern Green Living
Setting a new standard for purpose-built rental, The Heathview is a LEED Gold Candidate currently pursuing certification by the Canada Green Building Council.  A myriad of sustainable design features include water-saving fixtures, a natural rainwater containment system for irrigation, a green roof system to reduce heat load and lower energy consumption, heat recovery units, and improved indoor air quality through use of low VOC materials during construction.
A modern standard for green living, The Heathview is equipped with high efficiency oversized windows in the nearly 600 units, each filled with natural light and excellent sightlines. Alex Chapman, principal of the interior design team at Union 31 says, "We paired classic, contemporary design with open living spaces. Kitchens feature sleek stainless steel and quartz finishes and custom cabinetry.  All suites feature an in-suite washer and dryer. "
Shopping, schools, parks and dining along the St. Clair West restaurant strip, paired with exceptional condo-quality amenities – a 24-7 concierge, on-site maintenance, fitness facilities with cardio machines, weights, yoga studio and steam room, access to an exclusive dining room and private outdoor lounge – result in a sophisticated rental option both rare and desirable for the neighbourhood.
The highly coveted location is just steps from Forest Hill Village. Multiple forms of transportation are supported including the TTC St. Clair West subway station and the St. Clair West streetcar line. The Heathview will also feature an on-site car share service, free bike parking and hybrid car charge stations. Residents calling The Heathview home can feel good about the environmental design decisions made by Morguard.
The Neighbourhood
The Heathview's bold architecture by Page + Steele Architects blends seamlessly with the fabric and character of the historic neighbourhood. The Heathview is a destination address for a diverse demographic from young professionals to empty nesters.
City Councillor Joe Mihevc says, "Toronto's rental market is on the rise and we are delighted that Morguard has chosen Forest Hill for this model development. More people are choosing to rent and this increased density supports additional retail and new businesses, ultimately creating more jobs in the community. The Heathview will provide new rentals and contribute to keeping St. Clair West a strong, vibrant neighbourhood."
Visit the rental centre and experience The Heathview's four stylish contemporary model suites, located at 320 Tweedsmuir, south of Heath Street between Spadina and Bathurst. Or visit the web site at www.theheathview.com.