A Modern Spin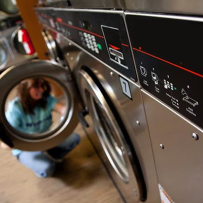 Technology is so much a part of our lives that we don't often notice how much we interact. For instance, have you noticed how many apps you have on your phone and use each day? That's just one example. This begs the question, why are there still property owners who have not upgraded their laundry facilities to more modern equipment that can turn their laundry facilities into an amenity residents can interact with and appreciate.
Increase capacity
Let's be honest, laundry isn't ever going to be a task anyone loves to do. So why not take some of the chore out of it? Large capacity washers and dryers can help accomplish this mission. A move to multi-load equipment benefits both residents and the property owner. First, residents are able to get in and out faster using the larger capacity machine. Cycle times are faster and loads are spun at a higher G-force than a top load washer, which means less drying time – all things residents appreciate.
For the owner, the benefits are lower water and utility consumption, and improved profitability, as the laundry is able to handle more residents. Profitability also is achieved by giving residents greater flexibility to tailor cycles to their unique needs, which means owners can up charge for warm and hot water washes, extra rinses, pre-washes and other cycle modifiers.
"Property owners should recognize that their laundry rooms are competing against laundromats," said Craig Madson, North American sales manager for Speed Queen multi-housing. "We should take a cue from this business and focus on providing our residents with a quality customer experience that keeps them on site."
Bring in the technology
Where else in your daily life are coins the main form of payment? Even most parking meters today are using a central pay credit card terminal. Yet, properties continue to force residents to lug their coins and cash along with their laundry baskets to the laundry room.
There are a variety of cashless options on the market, but for the properties that truly want to embrace the amenity value that a laundry can bring to residents, mobile payment systems are the future.
Some laundry equipment manufacturers are even building mobile payment systems into their equipment, so it comes straight from the factory with no third-party payment add-ons necessary, which saves on costs. Such systems also integrate all laundry room information into one management system (no more separate management tools for the equipment and the payment system).
The advantages are simplicity and ease of use for residents and better income generation for property owners due to the loyalty programs and the nature of mobile app payment systems.
"It's hard to classify mobile payment apps as the future, because they are so commonplace today," Madson said, adding that with such systems, residents load money on the app for use in the on-site laundry. "Mobile payment ensures dollars stay at the property," he said.
One of the best elements of such apps, are features such as Wash Alert, which keeps residents updated on laundry room activity. They can check machine availability in real time and be alerted when their load is almost complete.
"Again, mobile apps and Wash Alert bring convenience to the next level and give properties something to talk about beyond just 'we have laundry equipment on site,'" Madson said.
In today's busy multi-tasking world, it's about using high capacity and technology to create convenience, so residents don't waste time in the laundry room. Properties that accomplish this will have a competitive advantage in their markets.