A LOOK AT THE (HYBRID) 'OFFICE OF THE FUTURE'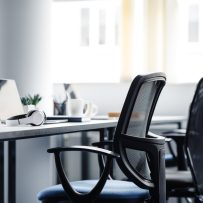 Ernest & Young (EY Americas) released its second annual EY Future Workplace Index in December, which tracks executive sentiment and behavioral data around the workplace of the future. The survey, based on response from U.S. C-suite executives, reveals surprisingly optimistic attitudes leadership on real estate investment despite economic tightening.
Amid the current inflation and interest rate environment, the Index found that just 33 per cent of C-suite business leaders will downsize their investment in commercial real estate, while 58 per cent say they will continue to invest in commercial real estate, which could include enhancing or expanding the office footprint.
"The economic downturn will force leaders to make important decisions regarding their real estate portfolios — from investments to space optimization, to workforce models," said Mark Grinis, EY Americas real estate, hospitality and construction leader. "Employers are beginning to understand that they need to earn the commute time of their employees, and many are investing in the 'office of the future' to achieve this."
Highlights of the EY survey include:
• More than 70 per cent of employees are working from home at least two to three days a week. This is up from last year's Index, which found that only about 42 per cent of employers were using a hybrid approach. New and complicated working patterns have a major effect on a company's real estate strategy, including the amount of office space required and the cost of using that space. Almost 60 per cent are either using, or will soon be using, reservation systems for space utilization and/or occupancy tracking.
• Of survey respondents, 64 per cent are either leasing or considering leasing suburban office space since the pandemic. Employers have responded to the deurbanization of the workforce seen during the pandemic by investing in hyperlocal offices to promote a return to the office. Companies are also investing in other avenues, such as in-person events, providing meals, reimbursement for commuting costs and childcare support programs to encourage employees to come into the office.
• Sixty-four percent of executives believe flexible working options motivate employees. Most are looking at the use of health and well-being management apps and other hybrid work technologies, such as digital and virtual collaboration resources, to optimize the workplace. For example, 44 per cent of company leadership have activated or are beginning to invest in the metaverse for social interaction, training and/or recruiting purposes.
• Of the companies surveyed, 40 per cent have either started using a four-day workweek or are in the process of implementing one. The Index found that 69 per cent of company leadership has implemented or is in the process of implementing hybrid work technologies (video collaboration platforms, virtual whiteboards, etc.) to meet employees where they are.
Story by: Western Investor