A blueprint for change? The promises inside the new city, provincial and federal housing plans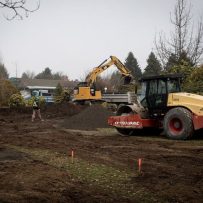 The federal, provincial and municipal governments have all made recent, big-ticket promises to tackle the housing crisis in B.C. — promises that span from reducing homelessness at one end to making family homes more affordable on the other end. But how where and when will this plans become reality, and how much is the combined price tag?
For the first time in 25 years, Vancouver has municipal, provincial and federal governments making pledges at the same time to invest in housing — a key concern in many parts of B.C., where keeping a roof over one's head can be a huge financial challenge.
While it remains unclear how soon some of the thousands of promised new homes will be available for people to live in, politicians at each level have said helping people find a place to live is or will be a top priority.
But relief will not be immediate, as all three governments have said their plans will take 10 years to complete. And, in the case of Victoria and Ottawa, it isn't clear if that relief will include housing affordability for lower-income residents, in addition to focusing on affordable housing for the poor.
"We are now in a situation that is entirely unprecedented," said Patrick Condon, a professor of urban design in UBC's architecture school. "That is that (average) worker salaries are not adequate to buy or even rent homes, and that is the first time we've seen this in Canada for a long time. We don't have government policies designed to deal with this."
The good news, he said, is that the city, province and feds are all interested in housing again.
"The bad news is the federal commitment is only for essentially social housing for people in dire need, which is good, but the amounts sound like a lot until you spread it across a whole country. It doesn't generate a lot of new housing units for a place like Vancouver or Victoria. It is not measured to the need, which is the problem," he said.
"At the provincial level, we all wait with bated breath to see what their approach will be." 
While the previous provincial Liberal government, which ruled B.C. for 16 years, invested in social housing, the new NDP government pledged more help for low-income residents in a mini-budget in September: $291 million to build 2,000 new modular housing units for the homeless, and $208 million over four years for 1,700 new apartments for renters, seniors, the disabled and those with mental health issues.
Premier John Horgan has hinted the party's first major budget in February will contain a more significant investment in housing — potentially to help the middle-class with affordability.
At the municipal level, Vancouver Mayor Gregor Robertson released in late November the Vancouver Housing Strategy, which pledges 72,000 new homes for renters, families, and vulnerable residents over the next decade. City Hall has also introduced an empty homes tax and imposed new restrictions on short-term rentals in an effort to increase the housing stock.
While the city hall strategy is detailed, there are few locations attached to the promises and a spokesman said "it's too early to provide estimated timelines for the completion dates of the various housing."
In 1993, the then-federal Liberals cancelled a long-standing national housing plan. In late November, Ottawa announced it would finally get back into the housing game again.
Prime Minister Justin Trudeau's $40-billion housing plan relies heavily on provinces kicking in some funds and mainly targets vulnerable and poor residents, and it isn't clear yet how the money will be divided among the provinces or what will be built in B.C.
Mike Harcourt, a former premier and former Vancouver mayor, believes Robertson, Horgan and Trudeau have similar-enough goals to work together toward change — a welcome relief after what Harcourt call one of Ottawa's worst public policy decisions to abandon housing in 1993.
"That cost us 25,000 non-profit units a year across Canada — we're talking 600,000 units that haven't been built (since then) — so you wonder why we have a crisis, particularly in Vancouver and Toronto," said Harcourt, now an expert on sustainable communities.
But he cautioned that people have to be patient. "It's going to take a while. As you know, housing is painfully slow to get built and painfully expensive for a limited number of units."
The provincial NDP promised during the election to build 114,000 affordable, rental, non-profit, co-op and regular housing units over 10 years, but since forming a government in July has yet to provide details on how that would be accomplished. Horgan told reporters at the end of the fall session, though, that affordable housing was his No. 1 priority.
"We are going to have a comprehensive plan rolled out in our February budget with respect to increasing supply so there are more units, more two-and three-bedroom units," he said.
In a year-end interview with Postmedia, Horgan conceded that his government has work to do to help the middle-class who increasingly can't afford rent or a mortgage despite having jobs.
"We already did announce a number of things in the September update on the homelessness front, and the modular housing, and making sure we have space for new social housing. But on the demand side, on driving up costs, it's all about speculation and we have to wrestle that to the ground," he said.
During the spring election campaign, the NDP promised to introduce an annual two per cent levy on foreigners who buy property in B.C. but don't pay taxes here, which could generate $200 million a year to help pay for affordable housing. It has been unclear since the NDP was elected if it would follow through with this campaign pledge, but Horgan's  speculation would suggest this tax could appear in the February budget.
"We have to stop the speculation, and you have to do it with a deft hand. You con't want to impact people's equity who are already in the market place and you want to make sure that at the same time you are bringing on more supply," he said.
There are other complex questions to try to answer on this file, Horgan added, such as determining whether massive illegal money laundering at local casinos, revealed last year by Postmedia, could be linked to speculation in the real estate market.
Another concern, Horgan said, is that any taxes or other financial changes to try to curb high real estate prices are done "without disrupting the markets and without putting fear into the minds of homeowners who believe that their equity might vanish overnight."
Ultimately, the decisions made by governments will not make everyone happy, Harcourt noted. "It is a question of clashing goals. You can't preserve heritage, be green and affordable, all at the same time."
Larry Benge, with a neighbourhood advocacy organization, argues that communities should have more influence over planning at city hall. He doesn't believe that simply building more condos and townhouses is the solution to affordability, and fears density without better planning will wreck the character of local communities.
"There's been no discussions about what should happen or where neighbourhoods could accommodate density…. The strength of the city is in their neighbourhoods," said Benge, of the Coalition of Vancouver Neighbourhoods, which represents 27 community associations across the city
"We've had 10 years of where we have built tons of new supply and it hasn't made any dent in the rise of real estate prices. … Is the problem supply or is the problem that these units are being sold to people who are not occupying them?"
It is likely that neighbourhoods will need more options like co-op housing and that there will be more density near future SkyTrain stations along Broadway, he agreed, but added existing residents should be consulted first about where and how new development occurs.
"The specialness of the neighbourhood has to do with what is there. It's the smaller shops or the combo of different types of buildings," Benge said.
Vancouver's plan includes opening up parts of the city zoned for single-family houses — almost 80 per cent of residential land — to other housing options, such as townhouses. In fact, of the 72,000 new units Vancouver has promised to build, it aims to add 10,000 ground-level homes such as townhouses into single-family neighbourhoods over the next decade.
Among the other pledges in the city's document are to try to address speculation and stabilize land values, boost rental protections, develop an affordable housing plan that includes 12,000 co-op homes, amending bylaws to allow for more unrelated people to live together in single-family homes, improve the standards of single-residence occupancy (SRO) hotels (mainly located in the Downtown Eastside), and build five new native housing buildings.
The federal plan pulls together almost $10 billion in planned spending, $11.2 billion in housing money outlined in this year's federal budget and $4.8 billion the Liberals promised to keep spending on funding for affordable housing providers. The remainder of the $40 billion is to come from provinces and the private sector. 
The plan calls for a portable housing benefit of about $2,500 a year, which could help 300,000 households by 2028 — but only if provinces match Ottawa's $2 billion investment and ensure the extra money doesn't cause a jump in private rents.
Ottawa also vows to build 60,000 affordable housing units and finance repairs to 240,000 more. Priority would be given to mixed-income developments, with about one-third of those to be offered at 80 per cent of median market rents for a 20-year period. A mix of other funding would be used to build another 40,000 affordable units. 
At the provincial level, the September mini-budget did not include the NDP's promised $400 rent rebate. But it did boost annual funding for the over-worked Residential Tenancy Branch by $3 million, to $11.6 million.
Figures released last month from the Canada Mortgage and Housing Corp. indicates Kelowna and Abbotsford-Mission have rental vacancy rates of 0.2 per cent, while Victoria's is 0.6 per cent and Vancouver's 0.9 per cent. Vancouver posted Canada's highest average monthly rents for two-bedroom apartments at $1,552.
In December, the province beefed up protection for renters by closing a loophole that some landlords used to seek inflated and unfair increases in hot rental markets.
To help middle-income British Columbians by increasing the supply of non-market housing, UBC's Condon agrees with the idea of a speculation tax by the province but also suggests the city should impose a larger tax on developers constructing big projects.
But he is not optimistic the three levels of government "will assume a dramatic new responsibility" for housing. Some jurisdictions have been brave when it comes to housing policies, he said, such as Vienna where about 60 per cent of the population live in municipally built, owned or managed housing.
The governments' current plans depend heavily on the market funding future subsidized housing, which he thinks is an error.
"That was great in 1970. We are in 2017 and we are in a new world where wages are low and the cost of housing is high," he said. "Vancouver has the worst case of this particular flu, but it's not unknown in places like Boston and Seattle."
In the meantime, British Columbians will need to be patient as governments determine how all the plans will be financed, and what combinations of housing units will exist 10 years from now in which B.C. communities.
"I think it might be disappointing for anyone looking for a home this month in Vancouver at a price they can afford, unfortunately," Condon said. "From a wish and hope in some developer's dream to actually have people move in is actually five years, so it takes a long time."
With files from Rob Shaw, Dan Fumano and Joanne Lee-Young, Postmedia News, and The Canadian Press