4 facts that show the ups and downs of Canadian homebuilding in 2017
The Conference Board of Canada, a not-for-profit research organization, recently released its outlook for residential construction.
That hasn't made many headlines. We'd guess housing starts don't have the same appeal as bubble, correction, or foreign buyers.
But the 14-page report, which retails for $925, is packed with numbers demonstrating the massive size of the industry behind the real estate headlines and suggesting where it's headed.
"This year will be especially tough, with multi-unit construction dragging down the industry, particularly the apartment and row segments," writes Cory Renner, an economist with the board who notes the oil slump and debt are taking a toll on the industry.
To save readers the expense and time of getting their hands on the research report, we've pulled four facts that show the state of Canadian homebuilding in 2017.
1. The Conference Board expects residential-construction profits will hit $4.2 billion (before tax) this year.
"Despite weaker residential construction activity, pre-tax profits are forecast to grow by 4.7 per cent this year," explains Renner. In addition to homebuilders, the industry includes other major players such as management and design firms.
2. Two thirds of Canadian homes built are multi-family dwellings, including condo units and townhouses. Back in the mid-2000s, these types of units accounted for less than half of the homes built.
Renner adds that the Canadian housing market has been undergoing "a permanent shift toward multi-family construction" since the country's last recession ended in 2009.
3. Renovations account for about 60 per cent of the residential construction industry's revenues.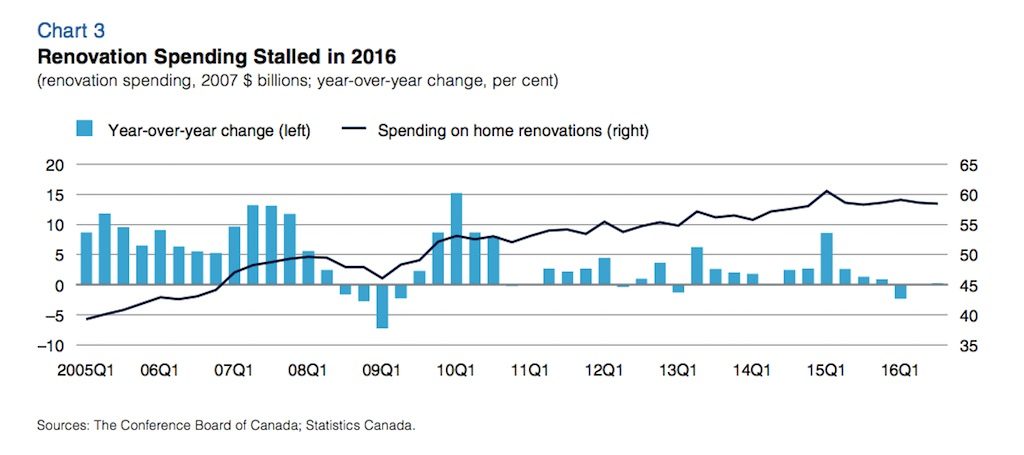 "Renovation spending is often an overlooked part of the industry," writes Renner. However, the Conference Board of Canada says cracks are forming in the reno-and-repair sector, partly due to limited credit, a result of high debt, which makes it tough for consumers to take on big projects.
4. Just 5 per cent of residential construction companies claim 20 or more employees.
Big builders only account for a small share of the industry by one measure, Renner suggests. "The industry is highly fragmented," reads the report, which pegs residential construction-related employment at 686,324 strong.