NAFTA Renegotiation May Be 'Rough' For Canada: Mulroney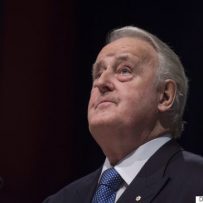 TORONTO — Former prime minister Brian Mulroney says the federal government may face a "rough negotiation" when it comes to NAFTA, but he believes Canada will nonetheless emerge with strong ties to the U.S. and Mexico.
Speaking before the Canadian Council for the Americas, Mulroney said U.S. President Donald Trump may be unorthodox, but he's smart and disciplined and will surprise many.
Mulroney, who has been friends with Trump for years, said he felt Canada's case "was advanced enormously" by Prime Minister Justin Trudeau's meeting with the U.S. president last week.
He said he doesn't believe Canada will throw Mexico "under the bus" as efforts to renegotiate NAFTA get underway, as some have suggested.
Mulroney is one of the architects of NAFTA, which came into effect in 1994.
VIDEO: What You Need to Know About NAFTA – http://videos.vidible.tv/prod/2017-01/26/588a6248cb65d3482ad16684_1920x1080_v2.mp4?-0i_qXRGIJ-xDQnRELQ9FFA6ecUiDhdHXktc-NngJH3gXwKyZUhb1ckk_lB9g1JD