6 Tips for Rebranding Your Apartment Community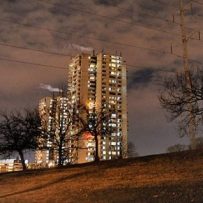 Story by: JENNIFER CHAN
So you acquired a new building, but it needs a little bit of work. Perhaps the features are dated, the name is passé, or the reputation has taken a hit. One way to start fresh is to rebrand your building, revitalizing your apartment community inside and out.
Here are some steps you can take as part of a systematic approach to turning your complex around.
Create a story around your product
Your brand is what sets you apart from other communities. It puts a face to your business and helps renters like and trust you. Create a story around your brand to communicate how you add value: What kind of lifestyle does your property offer? How does that reflect the demographic it will attract? How will your community's offerings fulfill that lifestyle? Communicate your brand consistently across all of your channels, including your website, signage, collateral and messaging.
Highlight what sets your property apart
Every property is unique, and that individuality should come through in your brand messaging. What do you offer renters that other properties in your tier do not? Whether it's your location, value, level of service or high-end amenities, be clear about what your community can give the apartment shopper that they can't find anywhere else.
Prioritize high-impact renovations
Property updates can make an outdated community more relevant and appealing to renters — and allow you to increase your starting rent. Research the high-value projects to determine what will make the most impact when modernizing your community; consider an exterior facelift to improve curb appeal, or update bathrooms and kitchens with modern countertops, fixtures and appliances.
Train your staff
Your leasing and front office staff should all be able to speak to the brand and give residents and prospective renters the experience that was advertised. Inconsistent execution of your brand and poor customer service can result in negative feedback and higher turnover.
Utilize social media to broadcast your message
A website is only the first step in building your brand. Apartment hunters are all over the Web; find out what sites they're using, and establish an online presence so you can interact with these potential renters. Leverage social media to execute your brand: Facebook, Twitter, and Yelp are where residents or prospective renters go to read reviews, ask questions, look for photos or even air their grievances. Having a presence on the top-trafficked social media sites gives you insight into what's being said about your community, helps you control the messaging, and allows you to provide an appropriate response.
Create a rebranding business plan
Before you get your hands dirty, determine your goals, timeline, marketing strategy and budget. Rebranding involves a lot of moving parts, and having a plan will help you establish a process, stay within budget and be on top of the game.