6 Tips for Improving Curb Appeal at Your Rental Community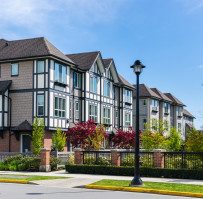 Story by: JENNIFER LYONS
Spring is here and experienced property managers know what that means — it's the beginning of the busy rental season. As you're up to your elbows preparing units for rental, ramping up your marketing efforts and setting up tours, don't overlook one crucial factor: curb appeal.
Many potential renters will drive past or through your complex before deciding if they want to schedule a viewing appointment, so make sure your community is dressed to impress from the very start with these important tips.
Make a good first impression
Rental shoppers start forming their opinions about your community from the moment they see it, so make sure your entryway is making the best possible first impression. If you have a sign at your entrance, give it a once-over. Could it use a power washing or a fresh coat of paint after the long winter? How does the landscaping look? Planting some colorful, eye-catching spring flowers is an easy and affordable way to give your front entrance a welcoming feel. If you have an especially large front entrance or a roundabout, get creative with your curb appeal. Consider a water feature, flowering trees or welcoming bench.
If you use sandwich boards in the surrounding neighborhood to help people find your community, make sure they are clean, professionally designed and clearly placed. Don't worry if other complexes have signs out too — your better-looking, more stylish signage might just convince potential renters to give your community a drive-by too!
Keep it clean
Each morning when you arrive, visit your garbage and recycling areas and make sure they're neat and tidy, especially if they're visible from the street. Walk the main pathways, outdoor spaces and common areas and pick up trash, debris, grass clippings and any pet waste. A small bit of effort every day can make a huge difference in demonstrating to potential renters how much you care about the community.
Light it up
Consider the fact that rental shoppers may drive through your community at night. How does your outdoor lighting look? Replace burnt-out bulbs, make sure walkways are well-lit and consider investing in additional lighting that both highlights architectural features of your complex and creates a sense of safety and security. Remember, potential renters are trying to imagine what's it like to live in your community, so show them that you value your residents' safety.
Show off a little
What are your community's best features? Perhaps you have a sparkling outdoor pool, a friendly courtyard, beautiful green spaces or a welcoming fire pit — spend a little extra time sprucing up the features and amenities that make your complex stand out from the competition. Draw attention with professional landscaping, stylish signage, ample lighting and even some staging furniture to help rental shoppers picture themselves using the space.
Give them a sign
Even though potential renters might not make it as far as the leasing office during their first drive through your complex, you should still take advantage of the opportunity to start the conversation. If you have a dedicated leasing office, make sure it's well marked, easy to find, and offers additional information via signs and marketing materials. Don't forget to add signage around your property that includes mobile-friendly calls to action, so shoppers can find more information about your community on their smartphones as they drive around.
Take a look with fresh eyes
When you're managing a property day in and day out, it's easy to overlook small details. Once a week, approach your complex as if you were a potential renter. What is the very first thing you notice? How much do you think this complex can charge in rent, based on your impression of its quality? Does this look like the kind of place you would want to call home? Take notes and add any improvement items to your to-do list for the week.
Increasing the curb appeal of your complex doesn't have to be time consuming or expensive, and it's an all-around plus. Not only will you be showing potential renters why your property is a great place to live, but you'll also be keeping current residents happy, promoting resident retention and making your property safer for everyone.