6 Screening Tips to Find Great Tenants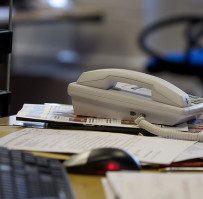 Story by: Jennifer Chan
As a landlord, you'd like to believe that all prospective tenants will be responsible, pay their rent on time and care for your property as if it's their own. To find your ideal tenants, you first need to weed out the unqualified or unsuitable ones by screening them early in the application process. Pulling a background check will help you hone in on the most financially responsible residents and eliminate those with red flags in their rental history.
Avoid problem tenants with these screening tips.
Start with a phone screen
Don't assume that everyone who responds to your ad is a qualified renter. Ask a couple of questions upfront so you don't waste time showing the property to someone who has a criminal record or a history of late rent payments. See the Postlets resources page for questions to ask during a phone screening.
Prepare a standard response
Clarify the minimum qualifications for tenancy either in your listing or during your first phone call or email response. Save yourself time — and make sure you don't forgot any key requirements — by creating a set of stock replies to common inquiries. For example, "Credit check and proof of employment are required. Applicants with a record of bankruptcy in the last seven years will not qualify."
Work with an outside provider
Conducting background checks involves extra time and the liability of handling personal information. There are plenty of services that complete thorough background checks at an affordable price and work directly with the renter to obtain personal information like their social security number. Confirm that the provider uses reports from one of the three major credit bureaus.
Meet with the applicant
No matter how perfect a renter looks on paper, meeting in person will allow you to match a face to their name and confirm their identity. Ask to see photo ID to protect yourself from impersonators. If you aren't able to meet with the applicant in person, request a Skype or Facetime meeting.
Call landlord references
Talking to an applicant's previous landlords is the best way to know if he or she is a responsible and trustworthy tenant. Ask if the renter paid rent on time, damaged the property or was the source of any disruptive behavior. Gauge the landlords' overall experience by asking if they would rent to the person again.
Use online search to your advantage
In addition to completing a credit and background check, use search engines and social media to look for any other information on the applicant that could have slipped through the cracks. Check their LinkedIn profile for employment history, and look at public records for criminal or sex offender history.
While it takes a small investment of time to complete each of these screening steps, it is almost always worth the effort. It can be much more time-consuming, difficult and costly to deal with problem tenants once they've signed a lease, so do your due diligence and feel confident about the residents who call your property home.