5 Ways to Market Your Community on Mobile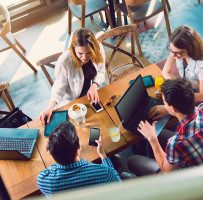 Story by: LINDSEY SCHOBER
What does mobile marketing look like at your community? Your residents and potential renters spend more time on mobile devices than on their desktops, and they use those devices to interact with social media and the Web in new ways every day.
Opportunities with mobile marketing are vast — it encompasses so many touchpoints and strategies. Some are new, while others are tried and true. Here are five ways you can use mobile marketing at your property to get noticed and reach more renters.
Go social and get visual
File this under "tried and true": If your community is using social networks to connect with current and potential residents, good news! — you're already embracing mobile marketing. According to Facebook, of its 986 million daily active users, approximately 86 percent of them access the site on mobile. Before you post your next event reminder, remember that social on mobile is a visual medium. Include pictures to catch users' attention and build interest. Better yet, start dipping your toes into visual social networks like Instagram and Pinterest, which have a heavy mobile user base. Even better? Experiment with video on social. Create a quick and fun video featuring your residents at your next event and post it on your Facebook or Instagram page.
Give real-time property tours
Speaking of video…. Mobile devices make it easier than ever to offer real-time property tours for potential residents. You can prearrange a time and use Skype or Facetime to connect. Using your phone or tablet, take rental shoppers on the highlights tour, spending extra time on the areas that interest them, or, if possible, show them the actual empty unit they are interested in renting. You can also experiment with a service like Periscope and broadcast a best-of tour for the whole world to see.
Step out of your comfort zone
There are so many new platforms and apps; it's hard to keep track of them all. But, if your renters skew younger (under 34), then Snapchat may be a great place to start experimenting. It's a rich visual platform that lets you post videos and pictures of life at your community — and have a little fun while doing so. Here is a good primer on the app. And here's some inspiration. Here too. Remember, though, as you play with new platforms, your audience and engagement numbers will be very small at first. That's OK. It'll give you a chance to understand what works and what doesn't.
Make it easy for users to connect to your location
In addition to the digital space your community occupies, it's important to remember that your property is also a physical place — like a retail store or hotel. It's a location that your current and potential residents are interacting with, so make it easy for them to extend that engagement to their mobile device. While people are on a tour, they will be on their phones price checking, comparison shopping, taking photos or videos, and reading reviews — just like they are when they enter a retail store. How can you assist them in these endeavors, and better yet, how can you encourage this behavior? Is there a hashtag you can use? Is there a website you can direct them to? Post all of your social channels in easy-to-view areas around the property so your residents can easily share, research and connect with you. Think about how to plug in to existing user habits so your community becomes part of the conversation while your prospects and residents are using mobile at your property.
Make your emails mobile friendly
Be sure your emails — whether part of an email campaign or a personal follow-up — are optimized for mobile. In other words, keep them short, simple and to the point. If you want your receiver to take an action, such as calling or setting up a tour, make it very clear and easy to do from their mobile device.
Mobile marketing doesn't have to be daunting. While there are an abundance of choices and ways to connect with renters, many of them are fairly easy to implement. If you want to make an impact, you and your communities need to take advantage of the tools you can use to reach and engage with potential renters on mobile.