5 Ways to Enhance Your Presence on Mobile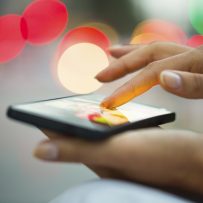 Story by: LINDSEY SCHOBER
Everyone understands what a mobile device is — physically. According to the Pew Research Center, the vast majority of American adults — 90 percent — at least have a cell phone. However, mobile goes way beyond the phone and includes tablets, phablets, wearables (like watches) and even the internet-enabled, touch-screen dashboard in your car.
Whatever the device, mobile is a platform your potential renters are using. They visit websites, make purchases, open apps, read, send emails and text messages, make phone calls, share on social media, get directions, view photos, watch videos, receive notifications and much more.
The mobile platform has reached critical mass. Many would argue that we've been heading in this direction for a long time. Even so, in May, Google reported that more people now conduct searches on mobile than on desktop. And when it comes to the rental audience, a December 2014 Google and Millward Brown study found that two out of three renters report using mobile to compare and discover new properties.
If you're trying to attract new residents to your property, mobile — and all of its quickly-evolving touchpoints — is now essential to renter acquisition. To help jump-start your mobile strategy, here are five trends that are likely to stick around.
Mobile is always on
Mobile is not the wave of the future, it's now. In addition to search traffic skewing more toward mobile, the time people spend on mobile now exceeds the time spent on desktops. Interestingly, mobile didn't cut into the desktop piece of the pie — it made the pie bigger. Adults spend about 53 hours on their phones and 39 hours on their tablets each month. Potential renters are searching for their next home, reading reviews and sifting through all sorts of property types at all hours of the day.
The mobile Web is just as important as apps (if not more so)
While apps can play a role in your mobile marketing mix, the most important place for renter acquisition is the mobile Web. Google search rankings now consider the mobile-friendliness of your website: Can renters discover you quickly? Does your website come to the top of the search results? Make sure your website is easy to use by testing it out on several kinds of devices. What should that experience look like? No pinching or zooming, no rotating the screen, no teensy text or excessive scrolling. Your mobile website is less about jamming your desktop version into a four-inch screen and more about understanding how potential renters are going to find you — and then tailoring the experience to improve their search.
Renters want valuable, easy-to-consume information at the exact second they are searching for it. Do they want your contact information immediately? Think about auto-populating forms or implementing click-to-call or click-to-text. You want to give them the quickest route to take action — and hopefully sign a lease!
Visual design is coming to the forefront
With faster download times, visual content is easier to deliver and more important than ever before. Given the range of screen sizes, however, your mobile website needs to be visually appealing but simple. The easiest way to think about this is to put less information on the page. Determine what content you need to provide (pictures, property tours, forms, etc.), then figure out how to display it so users can immediately home in on the relevant information. Your site has to look great on every device, or you risk sending potential residents to another property.
Personalization continues to evolve
Consumers expect you to show them the content they want — and not everything else. This idea filters through all of mobile's touchpoints and can include location triggers, opt-in notifications, saved searches or even just personalized email communications to those who have asked for more information (don't forget to optimize those email messages and subject lines for mobile, too). Personalization is about balance: Provide enough information to keep rental shoppers interested, but customize the experience to ensure your content is relevant and encourages renters to take the next step and contact you.
Social is huge
If you're talking about mobile, you're probably well underway with your social strategy. But, just to reiterate how important social media is in the age of mobile, consider this: Of Facebook's 986 million daily active users, 844 million access Facebook on mobile. Potential renters are on any number of social media channels (Twitter, Instagram, Periscope and even SnapChat), and they are probably using those channels on a native app. You need to be on the same channels your potential residents use so you can showcase your property, answer questions and help a renter call your community home.
Mobile technologies make it faster and more convenient than ever for renters to search for a home. Your prospects want the quickest path to the information they seek, and most of them have to reach no further than their pocket or purse to learn about your property — but if their mobile experience is subpar, they'll move on. The shift toward mobile continues to move at lightning speed, and this reality is only going to become more pronounced. It is a 24/7 cycle, and your property website needs to be easily discoverable, visually appealing and most importantly, offer users a reason to make contact.